Rudy, is everything alright? Seriously, are you okay?
At a campaign rally in Ambridge, PA, on Monday, former New York City mayor Rudy Giuliani—the Bellatrix Lestrange to Donald Trump's orange Voldemort—delivered one of the most unhinged speeches of this presidential campaign to date. It's a genuine accomplishment, considering this is an election that has already seen Trump himself promote nonexistent sex tapes, mock a reporter's physical impairment, and brag about committing sexual assault.
Taking a courageous stand against reality, Giuliani proclaimed Trump's performance Sunday night "the biggest and the best I've seen by a presidential candidate in all of the years there has been presidential debates." (Post-debate polling shows Trump had, in fact been walloped handily.)
"It's like Ronald Reagan used to say about the cold war," Giuliani continued, in an apparent attempt to paint Hillary Clinton as Soviet Russia, "'They lose, we win.'"
But Rudy, it turns out, was just warming up.
Calling Trump's debate performance a "whole and complete vision for the future of America," Giuliani promised the cheering Ambridge crowd the return of steel, coal, and manufacturing jobs—"all kinds of jobs!" (How? Let's not get bogged down in details)—before turning his attention to the right wing's favorite boogeyman: The Affordable Care Act.
G/O Media may get a commission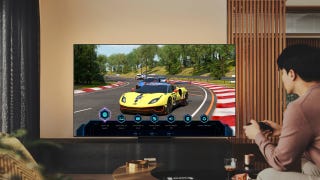 Up to $700 off
TVs, Cell Phones, Smart Home, and More
"The signature achievement of the Obama administration Is. A. Failure. A hoax!" Giuliani declared.
Actually, as New York Magazine pointed out on October 7, that "failure" is anything but: Under Obamacare, health insurance has been made available to a whopping 20 million more Americans, while still keeping federal spending lower than pre-ACA levels.
Nevertheless, Rudy pressed on, growing more and more agitated as he accused Hillary Clinton of wanting to transform American health care into a "socialist" model. After he told the crowd Clinton wanted to take "20% out of your pocket," Giuliani seemed to pivot toward one of the most alarming moments of Sunday night's debate: Trump's insinuation that he would jail Clinton, should he occupy the Oval Office.
"I had a federal judge call me this morning and say to me that a part of that debate last night sounded like a confession to a federal crime," Giuliani exclaimed, neglecting to mention that an exhaustive FBI investigation into Clinton's use of a private email server did not, as it happens, prompt a single criminal charge. Oh well! He smiled as crowd chanted "lock her up."
"Her Wikileaks revealed she wants to be president of the world!" he yelled into the crowd at one point—a reference the recent data dump of emails purported to have been stolen from the Clinton campaign.
On Clinton's comments regarding Trump supporters as "deplorable" (she's since expressed regret for saying so) and Sanders supporters are "losers" (which, it turns out, she never actually said in the first place), Giuliani assured the crowd: "We love you! She hates you!"
And Trump?
According to Giuliani, "He will be the voice of all us outsiders. All us deplorables. All us losers. All us morons. He's our voice against the establishment."
Energizing the conservative base by calling them losers and morons may be a winning rally strategy, but is it enough to catapult Trump into the West Wing?
Polling released Monday shows him trailing Clinton by 11 points.
Giuliani's full speech can be found below, starting at the 45 minute mark. Watch if you dare.