If the goal of today's daily Rudy Giuliani TV appearance was to make his dumb and corrupt client look even worse, consider that mission accomplished.
Giuliani spoke with ABC News' George Stephanopoulos about the Trump legal team's January letter to Special Counsel Robert Mueller, which was reported on by the New York Times on Saturday. The letter said, among other things, that Trump "could, if he wished, terminate the inquiry, or even exercise his power to pardon if he so desired."
Stephanopoulous asked Giuliani if he thought Trump could pardon himself. Giuliani said "probably."
"He has no intention of pardoning himself but he probably — not to say he can't," Giuliani, who joined the legal team after the letter was delivered to Mueller on January 29, said. "I mean, that — that's another really interesting constitutional argument, can the president pardon himself." Yeah, I guess "interesting" is one way to put it.
The letter also said that Trump isn't "readily available to be interviewed," which the Times interpreted as a warning to Mueller. Stephanopoulous asked Giuliani if that meant Trump wasn't going to sit for an interview.
G/O Media may get a commission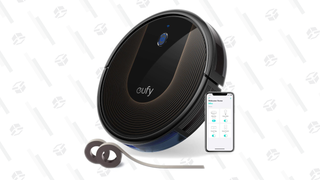 48% Off
Eufy BoostIQ RoboVac
"It doesn't mean that completely," Giuliani responded. "It means that, you know, there's got to be a high bar they have to reach in terms of convincing us that they're fair, convincing us that we're going to get the things we need." What does "fair" mean, apart from the completely made up Spygate thing? Who knows!
"Jay [Sekulow] and I want to keep an open mind," Giuliani said of whether or not he thought Trump should sit down for the interview. "I have to just be honest, I mean we're leaning toward not." Then Giuliani, who has never met a camera he didn't immediately fall in love with, manage to gin up some artificial outrage about leaks. "This letter comes out — which, I mean somebody should be — looking at these leaks, find out who the heck it is," he said.
Stephanopoulos shot back that Giuliani had no evidence that the leak came from Mueller's office. "It could come from DOJ, it could come from a lawyer," Giuliani said. "I didn't do it. Jay didn't do it. Jane [Raskin] didn't do it. Marty [Raskin] didn't do it. Pat [Robertson] didn't do it. We didn't do it."
Finally, Stephanopoulos asked Giuliani about Trump's "shifting explanations," particularly with regards to Donald Trump Jr.'s statement to the New York Times last July about a meeting Don Jr. had with with a Russian lawyer. The memo reported by the Times said that Trump "dictated a short but accurate statement" to the Times, which is...not what the original story was. (The letter also says that Trump Jr.'s statement to the New York Times is a "private matter.")
"I remember when this was first reported, Jay Sekulow was on my program, so the president had nothing at all to do with that letter," Stephanopoulos said. "Later, Sarah Sanders said well wait, he — he — he sort of weighed in, but he didn't dictate it, and now this letter from the president's lawyers say very, very clearly he dictated the statement."
"I think Jay was wrong. I mean, this is the reason you don't let the president testify," Giuliani responded. "If, you know, every — our recollection keeps changing, or we're not even asked a question and somebody makes an assumption. In my case, I made an assumption." Our recollection keeps changing. Our recollection keeps changing! Of course! What a great rebrand for "lying."
Can't wait to see where this wild ride (our rapidly deteriorating institutions, including our system of government, brought on by years of unchecked executive power and a lack of presidential accountability that goes back to at least Nixon) takes us next.