Rudy Giuliani is a busy guy these days. Between crazed television appearances, metaphysical musings, and affixing his chapped old man lips firmly to President Donald Trump's marshmallow butt, it's amazing that he's somehow found time to insert himself smack in the middle of a Romanian political crisis.

As first reported by MediaFax.ro on Monday, Giuliani—who, again, is just a guy with no actual position within the US government save for his sniveling role as Trump's personal attorney—wrote Romanian President Klaus Iohannis last week to criticize Iohannis' anti-corruption crackdown as a dramatic overreach, suggesting instead that those convicted in the sweep should receive amnesty.
It probably seems a little weird that a private American citizen who regularly appears on TV as the de facto mouthpiece of the president of the United States would send a strongly worded letter recommending an official policy position to a foreign government. And, in fact, the State Department itself wasted little time pumping the breaks on Rudy's out-of-the-blue meddling.
In a statement to Bloomberg News, the American embassy in Bucharest described the letter as "the views or conclusions of private U.S. citizens," and instead referred them to a multi-lateral release put out by a number of European countries and the U.S. in late June, which "call[ed] on all parties involved in amending Romania's criminal and criminal procedure codes to avoid changes that would weaken the rule of law or Romania's ability to fight crime or corruption."
So, what the hell is Giuliani actually doing? Chasing a check, per usual.
Speaking with Politico on Tuesday, Giuliani admitted that his foray into Eastern European politics was "based on a report I reviewed" given to him by the Freeh Group International Solutions consulting firm—whom, he added, "are paying my fee." It's unclear why he didn't disclose that little tidbit earlier. Politico noted that Giuliani "would not say how much he was paid or whether the Freeh Group retained him on behalf of a client."
G/O Media may get a commission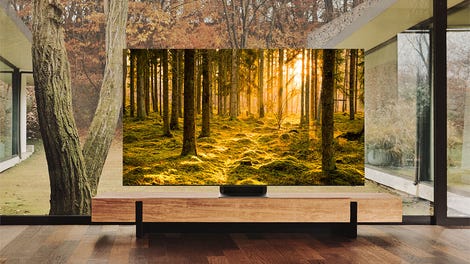 Up to 40% off
Samsung Smart TVs
Nevertheless, here we have a case of a guy with zero federal authority (save for his personal relationship with the president) writing advisory letters to foreign governments on behalf of a consulting firm founded by a former FBI director. Politics as usual, baby!!!!