Rumblr, the app that professed to be the "Tinder for fighting," is a stunt designed to market a consulting firm.
Rumblr professed to be an app that applied the Tinder model to street fighting. The app billed itself as "Casualty-free casual fighting for free" on its website, alongisde mockups of a smartphone app including options for "RumblrHER" and "RumblrGroup." Like Tinder, you could swipe right on the profile photo of someone you wished to fight, and swipe left on someone you'd rather avoid. The site also said that the app would offer "Rumblr Explore," which allowed "anyone [to] browse and attend fights close by that other Rumblr users have arranged - all for free!"
The service, which started tweeting on October 29th, garnered a bunch of media attention over the weekend. It started on Friday with a brief blog post about Rumblr on VentureBeat. Yesterday, the Daily News reported that they had been in touch with the Rumblr team who assured them that the app was "100% serious," that they had people dying to fund them, and that they were working with the App Store to deal with legal issues.
Meanwhile, people on Twitter got excited about it, jokingly or otherwise:
G/O Media may get a commission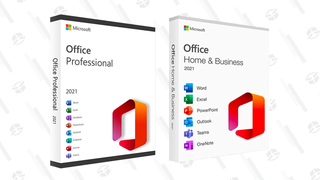 89% off
Microsoft Office Professional 2021 Lifetime License
https://twitter.com/Steven_McKie/status/662783132517593088
Then a countdown also appeared on Rumblr's site saying that read as follows:

Due to heavy demand, Rumblr will be released as a beta web application on app.getrumblr.com at 5:00 PM EST today, 11/9/15.
Doubts were raised prior to Monday's 5PM launch, however. A WHOIS search for getrumblr.com pointed to the website of Jack Kim, a Stanford student. Kim is involved with a music startup called OneTune and previously started a now-defunct "search engine" (it ran on Google, then by Bing) that "donate[d] 100% of revenues to charity," according to a glowing 2012 mini-profile. Meanwhile, Caitlin Dewey at The Washington Post did some digging and discovered Kim and another business-minded teen named Matt Henderson were behind the app; Dewey also talked to several lawyers who argued that Rumblr would be highly illegal to run. They told Dewey the app was real, too, though she was understandably skeptical.
Just before the ostensible launch at 5pm, Rumblr's Twitter account said they would be ready soon, and were "punching through" technical difficulties.
Then it turned out it was a marketing stunt for a consulting firm called von Hughes that Kim, Henderson, and a friend are launching.
Once the "web app" went live, it took users through a brief conversation with a chat bot who talked tough before redirecting to a page announcing von Hughes. There, the three describe the endpoint of the ruse as their "attempt to turn this entire story into something positive." Now they're directing people towards groups working to stop domestic violence and gang violence.
In a blog post, this is how the three recount it:

Within a day or two, VentureBeat picked it up as a news story and, within another day or two, it spread to over two hundred news outlets globally. We saw it as an opportunity to show the world our ability to produce a brand and market a product, and that's what we did.
They did, and everyone went along with it. Don't believe everything you read on the internet!
Ethan Chiel is a reporter for Fusion, writing mostly about the internet and technology. You can (and should) email him at ethan.chiel@fusion.net