For the past nine years, handfuls of locally-famous drag queens have periodically gone missing for weeks at a time only to suddenly reappear with bouts of non-disclosure agreement-induced amnesia about where they've been. Without fail, the queens suddenly regain their memories around this time of year when RuPaul announces the lineup of contestants for RuPaul's Drag Race—and 2016's no exception.
The Supermodel of the World recently introduced us to the twelve freshly beaten faces that will be vying for the title of America's Next Drag Superstar for the reality TV competition's eighth season with a salon-themed video, promising that this season would be a return to the show's shady roots.
As any Drag Race enthusiast has realized by now, every season features a handful of similar challenges designed to pit the queens against one another and test their drag mettle. The show's real magic comes from what each of the queens brings to the challenges and the best way to get an idea of how they plan on snatching the crown is to take a look backwards.
Behold—your season 8 queens doing what it is that they do best:

Acid Betty
Age: 37
Homebase: Brooklyn
Known for: Beating that face. Before becoming a RuGirl, Acid Betty made a name for herself as a ridiculously talented makeup artist capable of creating the kinds of transformations that look less like contouring and more like straight-up metamorphoses.

G/O Media may get a commission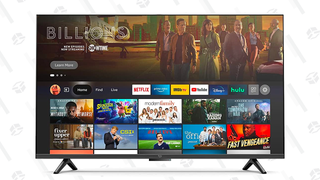 22% off
Amazon Fire TV - 50" Omni Series 4K - Early Access Deal
Bob The Drag Queen
Age: 29
Homebase: NYC
Known for: Wit. Originally hailing from Atlanta, Bob the Drag Queen established herself in the NYC drag scene with a blend of lip sync performance and and a penchant for calling drunken bar goers out on their bullshit.

Chi Chi Kat Devayne
Age: 30
Homebase: Shreveport, LA
Known for: Turning it out. As a member of the Devayne drag dynasty, Chi Chi's got the reputation of her drag family to uphold, something she's spoken about candidly. While she's admitted that singing and acting challenges might prove to be difficult for her, her stage performances are insane. She might end up lip syncing for her life, but she'll be a beast while she does it.

Cynthia Lee Fontaine
Age: 34
Homebase: Austin, TX by way of Puerto Rico
Known for: Her "cucu." As the latest Puerto Rican drag queen to walk the RPDR runway, Cyntha has some pretty large shoes to fill. A makeup artist by trade, Cynthia comes to the competition with a newly launched YouTube series and a squad name for her fans to be. Clearly, she wants to win, but she's also gunning for that post-show brand recognition.

Dax Exclamationpoint
Age: 31
Homebase: Savannah, GA
Known for: Nerd cred. One of the most valuable skills that the Drag Race judges look for in a queen is their ability to build a brand for themselves—Exclamationpoint has that in spades. In addition to having an iconic name, Exclamationpoint's also built up a rep for working cosplay into her drag, a Not only has she studied up on Drag Race, she's also got a versatile club kid aesthetic on lock that can only benefit from more high-profile exposure.
Dax Exlamationpoint's name says pretty much everything you need to know about her.

Derrick Barry
Age: 32
Homebase: Las Vegas
Known for: Being Britney Spears. Derrick Barry is to Britney Spears what Chad Michaels is to Cher. Barry's taken her Spears act on the reality TV circuit in the past, culminating in a short documentary about the uncanniness of their shared likeness.

Kim Chi
Age: 27
Homebase: Chicago
Known for:  Visuals (and cooking.) The thing that makes Kim Chi is the fact that you don't actually have to hear a thing she says or sings in order to be blown away by her performances. Her look ranges from anime-inspired art nouveau to more traditional, simple couture.

Laila McQueen
Age: 22
Homebase: Gloucester, MA
Known for: Goth looks. McQueen is the latest in the long line of spooky queens incorporating the macabre into her aesthetic. She does a killer Jennifer Tilly-as-the Bride of Chucky lip sync, but it's unclear how she'll manage to differentiate herself from the likes of Drag Race veterans Sharon Needles and Porcelain.

Naomi Smalls
Age: 21
Homebase: Redlands, CA
Known for: Legs. Somewhere between Naomi Campbell and Biggie Smalls lives Naomi Smalls. The self described "high-fashion hood rat" is known for switching up her looks on the regular, but never failing to show off and work her ridiculously long legs.

Naysha Lopez
Age: 31
Homebase: Chicago
Known for: Pageants. Calling someone a pageant queen when they've recently won one of the most prestigious drag pageants in the country isn't exactly an insult. While she's deflected questions about her abilities to do impressions, one imagines that her evening wear looks will be more than enough to keep her in the competition for at least a few episodes.

Robbie Turner
Age: 33
Homebase: Seattle
Known for: Acting. When you Google "Robbie Turner" the first thing you get are images of James McAvoy's character from Atonement. This quirk, Turner has explained, was entirely intentional when she chose her androgynous drag name. Like McAvoy's Turner, Robbie's persona is prone to theatrics, albeit of a decidedly more bubbly nature.

Thorgy Thor
Age: 31
Homebase: Brooklyn
Known for: Being the odd one. To look at Thorgy Thor, you wouldn't immediately assume that Tilda Swinton's one of her fashion inspirations. Once you hear Thorgy describe the kinship she feels with Swinton's striking looks, though, it all sort of makes sense.
The newest season of RuPaul's Drag Race premieres tonight on Logo.