Maria Butina, a 29-year old Russian woman who reportedly aided an attempt to to set up a 'backdoor' meeting between Donald Trump and Vladimir Putin in May 2016, was arrested on Sunday and charged on Monday with "conspiracy to act as an agent of foreign government."

The New York Times reports:
At the behest of a senior Russian government official, the woman, Mariia Butina, made connections through the National Rifle Association, religious organizations and the National Prayer Breakfast to try to steer the Republican Party toward more pro-Russia policies, court records show. Privately comparing herself to a Soviet Cold War propagandist, she worked to infiltrate American organizations and establish "back channel" lines of communication with American politicians.

"These lines could be used by the Russian Federation to penetrate the U.S. national decision-making apparatus to advance the agenda of the Russian Federation," an F.B.I. agent wrote in court documents.
The Times notes that, while Butina is the 26th Russian national to be indicted for charges related to interference in the presidential election, she's the first one to actually be arrested. (The charges were reportedly filed by national security prosecutors from the Justice Department, in an investigation that was "carried out parallel" to the investigation run by Special Counsel Robert Mueller.)
The Justice Department accuses her of working with "a high-level Russian government official"—who the Times identifies as Alexander Torshin, the deputy governor of Russia's central bank, for whom Butina reportedly worked as a special assistant—on a "scheme" going as far back as 2015 and lasting until "at least February 2017" to shift the Republican Party towards a more favorable relationship with Putin's government, without ever registering as a foreign agent. (By the way, doing this is totally cool if you do register—or if you're AIPAC.)
G/O Media may get a commission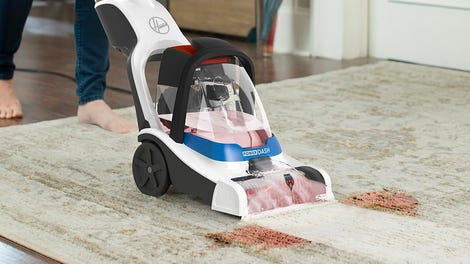 26% Off
Hoover PowerDash Pet Compact Carpet Cleaner
Butina is also a gun rights advocate with ties to the National Rifle Association, as the Daily Beast reported last year:
Torshin and Butina are both passionate defenders of gun owners' rights. Both are lifetime members of the NRA (the only two Russians he knew to be lifetime members, Torshin once tweeted). The two attended the NRA's annual meeting in 2014 as a special guests of then-NRA president David Keene.

"We are a young organization. We are three years old. And we invited David Keene. He made a speech at our annual meeting. And so it's like an answer from one side," Butina told Townhall. "The next side is the life member of our organization. He is our Russian senator. His name is Senator Alexander Torshin. He is a life member of NRA too, and he's usually a participant of such events, and every annual meeting of NRA. But now the situation between (our) two countries is very difficult. And we have to go here together with Senator Torshin. He is a great gun lover, he supports our organization and he's a friend of the NRA."

The Times report sheds a little more light on how she allegedly used those ties with the NRA:
Ms. Butina viewed the N.R.A. as a powerful force for shifting Republican policies, court records show. She described the group as "the largest sponsor of the elections to the U.S. Congress" and as a sponsor of the Conservative Political Action Conference. The N.R.A. is not named in court records, but its ties to Ms. Butina and Mr. Torshin have been previously reported. The N.R.A. did not respond to a message seeking comment.

In May 2016, Mr. Torshin and Ms. Butina proposed a meeting between Mr. Trump and Mr. Putin during the annual N.R.A. convention in Louisville, Ky. Jared Kushner, Mr. Trump's son-in-law, shot down the proposal. But Donald Trump Jr., the president's eldest son, did meet Mr. Torshin and Ms. Butina at an N.R.A.-sponsored dinner, although Mr. Trump's lawyer has called the encounter brief. Congressional investigators have obtained a photograph of the three at the event, people familiar with the inquiry said.
You know it's a really good idea when Jared Kushner, of all people, is the one who wants to throw on the breaks.
In a statement, Butina's lawyer denied the charges. "Maria Butina is not an agent of the Russian Federation," Butina's lawyer, Robert N. Driscoll, said in a statement to the Times. "There is simply no indication of Butina seeking to influence or undermine any specific policy or law."
The news comes just days after a dozen Russian agents were indicted for allegedly hacking the Democratic Party in 2016, and on the same day that Trump denied that Russia tried to influence the election. Love that impeccable Trump timing.

You can read the indictment below.