There are a number of two-word parting messages Indian Country could offer Ryan Zinke. Right now, it's a tie between "fuck off" and "good riddance."

After rumors of a forthcoming resignation swirled, Zinke confirmed them on Saturday when he officially announced he would be stepping down as secretary of the Department of the Interior. So, in the interest of documenting Zinke's brief-but-destructive run as one of the most corrupt, corporate-aligned dirtbags to grace the Interior in recent memory, here's a quick breakdown of just how much evil he accomplished in the last two years.
There's the stuff that he tried to sweep under the rug—like when he caved to MGM Resorts International, the Las Vegas-based company, to block the longstanding plan by the Mashantucket Pequot and Mohegan tribes to open a casino. Or when he rode in claiming he'd cleanse the Bureau of Indian Affairs of its harassment issues and proceeded to have an unending string of top officials resign, including Zinke-appointed director Bryan Rice, amid allegations of bullying, threats, and retaliation. This all happened while the BIA and FBI continued to fumble on any sort of solution to the ongoing crisis of murdered and missing Indian women.
A great deal of Zinke's missteps also concerned the privatization of Native and national park land to sell it to the oil and gas industries. According to Indianz.com, when compared to the rates set by the Obama administration, Zinke—who referred to it as the creation of an "off-ramp" for Native-owned land—managed to slow the amount of land placed into trusts for Native tribes by nearly five-fold. Instead, that land was sold to the highest bidder.
G/O Media may get a commission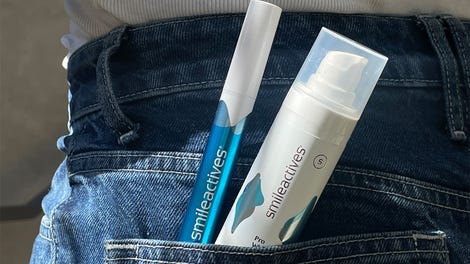 58% off
Whitening Powerhouse Pen & Gel Duo
In maybe his boldest move, Zinke had the gall to sell off land now known as Bears Ear and Grand Staircase-Escalante—once lived on and cared for by the Navajo Nation, among others—and then turn around and try to gaslight white folks (via Breitbart, of course) by telling them that, actually, Natives loved having the land being turning into a monument to corporate greed. (They didn't!)
Amazingly, Zinke wasn't a big fan of being told just how much he sucked. He shuffled around nearly all of the senior officials in the Interior, changes which just so happened to disproportionately affect Native American employees. It was a clear attempt to destabilize the power structures Indian Country had painstakingly built up within the department—an effort made so that Zinke would encounter as little pushback as possible when he proposed selling off Native land to fossil fuel companies. While emotionally brittle white men seem to be a running theme in the current administration, Zinke was a particularly fragile breed. It's both why he only granted one (1) hour of his time to Utah tribal leaders when he came to chop up and sell off Bears Ear and why he snapped at a Native woman asking him for answers:
There's a laundry list of possible explanations for Zinke's behavior in office: Maybe he didn't give a shit about Natives; maybe he was pissed off that he got his ass dragged to hell and back for his busted-ass mocs; maybe he was only interested in stuffing his pockets and the pockets of his buddies in the oil industry; maybe he never cared, or even thought twice, about what tribal land actually means to the people who once inhabited it.

Or maybe we just weren't nice enough.