Ever candid about his feelings, soul singer Sam Smith held nothing back on the subject of his weight loss in a recent 60 Minutes Australia interview.
Considerably raw, unedited, and easily accessible when singing of love, yearning, and loneliness across the multiple Top 40 ballads that comprise his debut album, In The Lonely Hour,  it's unsurprising that Smith's lifelong struggle with weight tugs at the heart. The natural quiver and warble in his voice, alone, makes anyone susceptible to his visceral sentimentality.
Discussing the "control" food seems to have over him, the 4-time Grammy-winning singer frankly admitted in a breathless tone,

"If someone calls me fat, that effects me way more than someone calling me f*****. I think just because I've accepted that [my sexuality], if someone calls me a f*****, it's like, I am gay and I'm proud to be gay so there's no issues there. If someone calls you fat, it's like, that's something I want to change."
Startling. It's incredible to think that the burden of Smith's perceived weight "problem," for him, is graver than fending off homophobic epithets and slurs.
Watching Smith accept such an easy, progressive nonchalance towards sexuality, but an almost brutally inflexible stance on body image is puzzling. This could be due to his generation's forward-thinking approach to coming-out narratives — and/or the reputed cutthroat physical standards endemic of the gay male community. What's clear is that as a man, Smith is inordinately upfront with his insecurities surrounding his body.
G/O Media may get a commission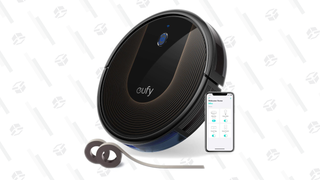 48% Off
Eufy BoostIQ RoboVac
Meanwhile, the salacious, body-shaming tabloid headlines that haunt female celebrities like Kim Kardashian, Jessica Simpson or Kelly Clarkson aren't plaguing Smith. Obsessive coverage of celebrity weight fluctuation is generally relegated to monitoring famous women, with numerous critics gawking at and making comments about Clarkson's post-pregnancy body. And so Smith is able to talk about his shape on his own terms — he actively invites his Instagram followers to comment about his recent 14 pound weight loss. Posting the wonders of famed celebrity nutritionist Amelia Freer or shots of him in the gym, Smith hardly hides from the public as he evolves. In fact, even when accepting one of his many Grammy awards a few months ago, Smith paused in what could possibly be the biggest moment of the young singer's life to mention his struggle with dieting amidst his heartfelt acceptance speech. Applause quickly followed.
Of course, scrutiny doesn't always evade famous men struggling with body issues — as Robert Kardashian's weight gain and subsequent spiraling became a major plot line on a recent episode of Keeping Up with the Kardashians proves. In one episode, Kim could be seen screaming at her mother to stop enabling her younger brother financially and demanding the matriarch organize an intervention, while Khloe tearfully asked Robert to seek help. Robert had long been a source of ridicule in the tabloids, and has completely shrunk from the public eye — the 27-year old even avoiding Kimye's over-the-top wedding ceremony last year.
And while no one wants Smith, or any person for that matter, to feel a similar type of anxiety over his or her weight, it is interesting to note how male privilege can paint a different tale of how weight loss is perceived. It, unlike any of Smith's popular songs, doesn't necessarily sound like a sob story.
Marjon Carlos is a style and culture writer for Fusion who boasts a strong turtleneck game and opinions on the subjects of fashion, gender, race, pop culture, and men's footwear.