It's been a week since Samantha Bee became the punching bag for conservatives out for blood over the cancellation of Roseanne after she called Ivanka Trump a "feckless cunt" for gloating about her own family while doing absolutely nothing about the Trump administration's immoral policy of separating undocumented families at the border.
Bee apologized last week, but Wednesday was the first episode of her show since the controversy, and she opened it with an efficient apology while making a recommitment to her initial point.
Bee started with the word "cunt" itself:
It is a word I have used on the show many times hoping to reclaim it. This time I used it as an insult. I cross the line, I regret it and I do apologize for that. The problem is that many women have heard that word at the worst moments of their lives. A lot of them don't want that word reclaimed, they want it gone, and I don't blame them. I don't want to inflict more pain on them.

I want this show to be challenging and I want it to be honest but I never intended it to hurt anyone except Ted Cruz. Many men were also offended by the word. I do not care about that.
Bee also apologized to the children being affected at the border, addressing the broader context of how today's political outrage machine eclipsed the actual problem she was trying to highlight:
I should have known that a potty-mouthed insult would be inherently more interesting to [the media] than juvenile immigration policy. I would do anything to help those kids. I hate that this distracted from them.
G/O Media may get a commission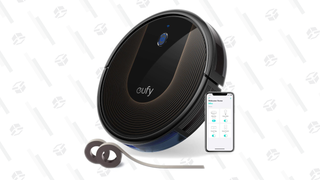 48% Off
Eufy BoostIQ RoboVac
After reminding everyone that comedians are not paragons of civility (not that that makes absolutely vile racism okay for all of you just drooling at the chance to defend Rosanne Barr with this logic), Bee ended with this:
I'm really sorry I said that word, but you know what, civility is just nice words. Maybe we should worry a little bit more about the niceness of our actions.
All in all, a very effective and economical use of two minutes.