Kindergarten students at Miraloma Elementary School in San Francisco have access to single-stall or gender-neutral restrooms, and that's it. No more boys' or girls' restrooms. Just restrooms.
There are about eight gender non-conforming students in the school, ranging from tomboy to transgender, Principal Sam Bass told the San Francisco Chronicle. Three students in the first grade identify as transgender.
The state of California in 2013 introduced laws that permit students to use "facilities consistent with his or her gender identity, irrespective of the gender listed on the pupil's records." But Miraloma Elementary appears to be one of the first public schools in the nation to convert all restrooms to gender-neutral facilities.
"Some elementary schools in the district have created one space for a student on the gender spectrum to use. Here at Miraloma, we are the first elementary school in the district to say that's not good enough," Bass wrote on the school's website.
So far only kindergarteners and first graders have access to the gender-neutral restrooms, but the school has plans for all students in all grades to eventually use the facilities.
G/O Media may get a commission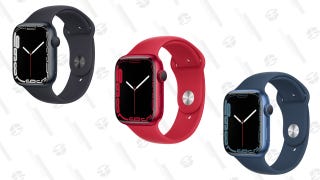 Up To $45 Off
Apple Watch Series 7
"The conversion for 4th/5th grades will start during the 2018-2019 school year when this year's 1st graders enter 4th grade," principal Sam Bass wrote on the school's website.
The school's 368 students are relatively diverse for San Francisco public schools. In the 2013-14 school year, about 52% of students were white, 15% were Asian and 9.8% were Latino, according to district records. [PDF] Miraloma Elementary is also one of the more affluent schools in the district. About 16% of students receive free or reduced priced meal programs, compared with 54% for the entire district.  Free or reduced lunch programs signal that students come from low-income and working class families.

Bass says the gender-neutral facilities are good for all students, not just the gender non-conforming ones.
"Not only do we want all of our students to feel safe, supported, and comfortable to be who they are, we want them to understand systematic equality for everyone," he wrote on the school's website.