Sandra Bland, the 28-year-old woman who died in a Texas jail cell last Monday of alleged self-asphyxiation, was threatened with a Taser by the trooper who pulled her over while still in her car, her family's attorney said.
Attorney Cannon Lambert told News One TV host Roland Martin that not-yet-released dash cam footage showed the trooper pulling out his Taser and Bland apparently complying with the officer's demand to get out of her car.
According to dash cam footage seen by Lambert, who is the attorney for Bland's family, the trooper told Bland to put out her cigarette and she refused.
According to Martin, Lambert also saw the trooper attempting to open Bland's door, at which point Bland reached for a cell phone to record the incident.
G/O Media may get a commission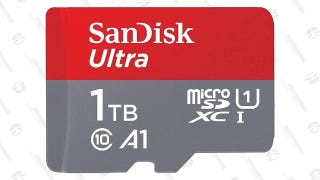 Save $75
SanDisk Ultra 1TB MicroSDXC Card
Before her death, Bland was on a road trip and would have started a new job last Wednesday as college outreach officer at her alma mater, Prairie View A&M University.
Texas Department of Public Safety (DPS), the agency investigating Bland's death with the FBI, released a statement Friday night acknowledging violations of "department procedures" and the "department's courtesy policy" regarding traffic stops.
According to DPS, the employee involved has been assigned administrative duties, but has not been fired or placed on leave.
On Friday, DPS said the video footage will be shared with the public as soon as possible, but so far Lambert's is the only account of what happened to Sandra Bland at the traffic stop before her arrest.
Bland's sister Sandra Cooper, who also appeared on the show, is encouraging Americans to keep using social media as a way to bring attention to the death of her sister.
—
More: Why is the same agency that arrested Sandra Bland investigating her death, too?
Collier Meyerson is a reporter at Fusion with a focus on race and politics. She lives in Brooklyn.