Sarah Palin sat down with Mario Lopez on "Extra" to discuss a wide range of topics including Donald Sterling, the national debt and waterboarding. Things got interesting when Lopez asked Palin whether the fact that Hillary Clinton will be a grandmother in 2016 makes her more electable (Chelsea Clinton is currently pregnant, a fact that does not make this question any less ridiculous).
Leaving the electability aside, Palin did share bright hopes for Grandma Hillary's future. "I think it'll broaden her worldview," Palin said.
Palin went on to say that being a grandparent might even inspire Clinton to change her mind on certain social issues. You know, like abortion. Because that's probably something that Hillary Clinton hasn't yet given much thought to as a mother and lifetime politician.
Palin's thoughts, in full:
"Just knowing that her daughter Chelsea is pregnant with a baby - it's a real baby, you know, it's not some disposable somethin' – I know that's gonna be controversial, those who are in that position as a parent or a grandparent, they realize that sanctity of life. How innocent, how precious it is. Of all places, it should be in the womb that these babies are protected. So maybe even on a social issue like that, she'll open her eyes."
G/O Media may get a commission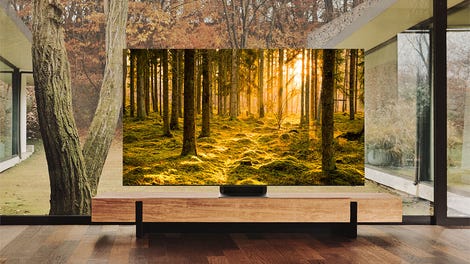 Up to 40% off
Samsung Smart TVs
Grandparenting: helping mothers realize that babies aren't disposable somethin's.
Alexandra DiPalma is a producer for Fusion Lightworks, Fusion's In-house Branded Content Agency.