A fake story about a make–believe Houston mosque turning away Hurricane Harvey evacuees is going viral among right–wing Islamophobes who are too lazy to see that it's a hoax.
It's not a very funny hoax, but it's a hoax nonetheless. And it goes to show how broadly something that actually is #FakeNews can circulate online among social media users blinded by their own bigotry.

"Satire" site The Resistance: The Last Line of Defense published a fake story on Thursday titled, "Texas Mosque Refuses To Help Refugees: 'Allah Forbids Helping Infidels.'" Its author made up a mosque name ("Ramashan Mosque") and an imam ("Aswat Turads") and claimed that the mosque had turned away flood victims because it's against members' religion to accept any non–Muslims.

Never mind that a quick Google search would turn up headlines such as this, from the Independent: "Hurricane Harvey: Mosques open doors to victims of devastating flooding in Houston."

In its first two paragraphs, that story stated:

As the murky floodwaters of Hurricane Harvey kept rising, a vast mosque here – like several others across the state – opened its doors to Americans of all faiths. It offered a dry place to sleep, diaper-changing stations, endless coffee and sweet tea, and warm trays of Pakistani and Syrian rice dishes.

There are an estimated 250,000 Muslims who live across the Houston area, one of the most diverse cities in the country. Their mosques and charitable organizations were some of the first to open their doors during the disaster to offer supplies and shelter to their neighbors.
G/O Media may get a commission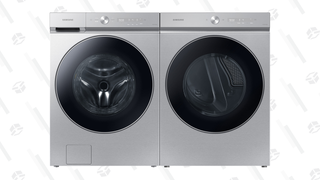 Get $500 back in credit
Last Chance: Samsung Bespoke AI Washer and Dryer Preorder
A disclaimer way at the bottom of The Last Line of Defense states the following:

In a cynical world where the news of the day often seems fake, The Last Line of Defense offers today's busy conservative a place to go to read things they'll enjoy and congregate with a bunch of people they agree with. So while everything on this site is a satirical work of fiction, we are proud to present it to those who will have called it real anyway.
But like many things online, that little disclaimer wasn't spotted initially by both the Muslims targeted by the hoax and those who believed and circulated it. So, the site doubled down and published a follow–up post titled, "Hurricane Victims Storm And Occupy Texas Mosque Who Refused To Help Christians."

As the hoax alert site LeadStories pointed out, the photo on the first post is actually Imam Ammar Shahin, who delivered a sermon that was criticized for being anti–Semitic last July. The photo on the second post apparently is Ibrahim Hindy, who was thousands of miles away from Houston on an annual pilgrimage to Mecca.



People later found out the post was supposed to be a joke, but unsurprisingly, they didn't find it funny.

But that didn't stop thousands of people from sharing it online. As of this writing, according to The Last Line of Defense, the fake story has been shared over 9,000 times on Facebook and about 2,000 times on Twitter.



There was a real story, however, about a Houston–based religious leader who initially refused to open the doors of his place of worship to hurricane evacuees. But he isn't Muslim. He is Joel Osteen, a multimillionaire televangelist with a 16,000–seat church.
Osteen's Lakewood Church initially claimed on its Facebook page that it couldn't take in victims because it was inaccessible and flooded, which turned out not to be true.

After being called out, Osteen finally opened the doors of his church, claiming the delay was because city officials never asked to use the church for the more than 40,000 hurricane victims currently being housed in shelters. He then went on an apology tour on TV.

And when the PR storm finally blew over, he allegedly passed around donation plates, asking hurricane victims for money.