Despite vocal protests by Latino legislators and a petition that garnered more than half a million signatures, Donald Trump will host "Saturday Night Live" tonight. Many within the Hispanic community are shocked and angered that "SNL" would give airtime to Trump, seeing it as an implicit endorsement of anti-Latino sentiment. But if you examine the show's deeply flawed history when it comes to Latino representation, you will see why "SNL" didn't seem to have a problem with this.
"They're bringing drugs, they're bringing crime," Trump said of Mexican immigrants in late June. "They're rapists. And some, I assume, are good people." His comments—which were completely incorrect, since studies have found that immigrants, documented or otherwise, are less likely to commit crime—are rooted in the racist stereotype of the invading foreigner coming to the United States to suck up its resources and take over the country. This rhetoric has clearly resonated with his supporters, as evidenced by his meteoric rise in the polls. It has even struck a chord with the fringe white nationalist movement, some of which sees Trump as the only candidate that will fight "the cultural genocide" happening in America.
And while "Saturday Night Live" obviously isn't calling all Latinos rapists or asking for the deportation of millions of undocumented immigrants, the show—which has only had two Latino cast members in its over 40 years of existence—still stereotypically portrays that community as a foreign "other" in sketch after sketch. Take for instance, "Jewelry Party," from a 2014 episode hosted by Lena Dunham. In the bit, Cecily Strong (who is not Latina) plays Marisol, a Venezuelan sexpot who is too ignorant to realize that her boyfriend is a misogynistic men's rights activist.
"Jewelry Party" was panned by the likes of Latina magazine, Latino Rebels, and even the conservative National Review, which said that the "Marisol character is a stage Hispanic straight out of an ancient-stereotypes playbook."
G/O Media may get a commission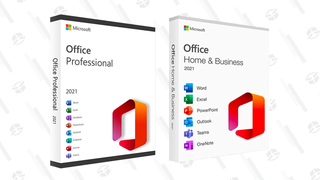 89% off
Microsoft Office Professional 2021 Lifetime License
This wasn't the first time Strong (who, again, is not Latina) played a Hispanic character. In 2012, she went on "Weekend Update" as Mimi Morales, a Latina "get out the vote" political activist who, it turns out, didn't actually know much about politics.
Then there was this sketch from the show's current season, when "SNL" celebrated the normalization of U.S.-Cuban relations:

Or the time in 2010, during the show's 35th season, when Jennifer Lopez hosted and the show aired a spoof on telenovelas (soap operas).

Remember this clip from 2002, where Fred Armisen—who, along with Horatio Sanz, is one of the two Latinos in the entire history of "SNL"—introduced "Fericito," the stand-up comedian from Latin America?

This isn't to say that "SNL" has always been tone deaf when it comes to race. Quite the contrary. The show aired this incredibly hilarious Richard Pryor sketch back in 1975, during its first season:
And more recently, they aired this bit that highlighted how sports media openly used racially insensitive language when talking about Jeremy Lin, the NBA's first Chinese-American player.

It's not a secret that "Saturday Night Live" has had major problems with diversity. In recent years, the show was heavily criticized for not having any black female members (it rectified that by adding the wonderful Sasheer Zamata, along with Leslie Jones). And despite launching the careers of Eddie Murphy and Chris Rock—two of the greatest comedians of all time who also happen to be black—"SNL" as an institution has always been a club for white men, and in recent years for white women (the show gave us both Tina Fey and Amy Poehler).
So yes, inviting Donald Trump  to host the show is an implicit endorsement of his anti-Latino views. But given its terrible track record towards Latinos, should we really have expected anything else from "Saturday Night Live"?
Fidel Martinez is an editor at Fusion.net. He's also a Texas native and a lifelong El Tri fan.