Saudi Arabia gave Donald Trump and his White House a whole bunch of crazy gifts during the president's first official visit abroad. Thanks to a Freedom of Information Act request by The Daily Beast, we now know exactly what those gifts were. The list, compiled by the State Department, is nothing short of mind–boggling.

According to The Daily Beast's Ken Klippenstein, Trump's May trip to Riyadh landed him all kinds of bizarrely opulent items, from an "Orange and gold wool robe lined with cheetah fur" (presumably to match his unique appearance and encourage his affinity for wearing robes while watching TV) to a "Pale pink chiffon dress with silver and gold embroidered flowers in wooden box" (presumably for his pal Rudy Giuliani).

And for something he can pass on to his wildlife–hunting sons, there's a "Dagger made of pure silver with mother of pearl sheath and various designs" and "One large sword, a dagger, a leather ammo holder and holster."

For the president, there's a "Chopard pen," with which he can sign future Muslim bans against countries excluding Saudi Arabia, while staring at "Artwork featuring [a] picture of President Trump." The Saudis certainly seem to understand their target of benevolence well.

In fact, there's something for the entire family among the gifts, including "Three boxes of 6 set Roja perfume," "Large wooden box with gold designs filled with cologne bottles," and "Black traditional female Saudi outfit with gold threaded detail."

G/O Media may get a commission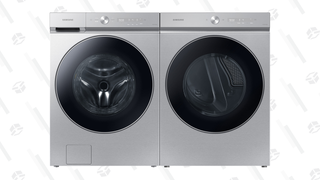 Get $500 back in credit
Last Chance: Samsung Bespoke AI Washer and Dryer Preorder
Amusing as the gifts may be, they are emblematic of a more serious issue: Trump's embrace of the Saudi regime, a stark reversal from his campaign rhetoric. During the campaign, Trump accused the regime of everything from being responsible for 9/11 to failing to "reimburse us the way we should be reimbursed," going so far as to threaten to stop buying their oil if they didn't shape up…

"Trump's decision to visit Saudi first clearly signaled his top prioritization of America's most profitable relationship with its number one weapons client in the world," Sarah Leah Whitson, executive director of Human Rights Watch's Middle East and North Africa Division, told The Daily Beast.
We all know how much the president loves his symbols of extreme wealth, but here's an idea: Since Trump admires Texans so much, why not auction off the items and donate the proceeds to Hurricane Harvey victims? He can add the proceeds to his promised $1 million donation, although Trump still hasn't clarified where the money will come from or where it will go.
Somebody get me Sarah Huckabee Sanders on the phone.
Read the entire report and see the full list of gifted items here.