On Tuesday, voters cast their ballots on a number of pressing issues and some extremely-good-to-absolutely-evil candidates. But there was one particular issue on the ballot that could help shape the future of the Democratic party, the age old question: Is Weezer good?
It's a topic that's been divisive for so-called "liberal elites" for years. We can now report, with 100% of precincts reporting and zero minutes left in the Twitter poll, 57% of voters said yes, the alt-rock band best known for its eponymous 1994 debut album is, in fact, still good—a clear win, no doubt, but one that raises serious questions heading into the general election.
While the turnout was a bit anemic—a major challenge for the Democrats as they head into November—the results left us with a few important takeaways:
Even those who voted "yes" seemed to do so with a healthy amount of caveats.
Many left notes right there on the ballot:
Another takeaway:
What might've been a guaranteed victory in 2004 or 2008 isn't necessarily one today.
G/O Media may get a commission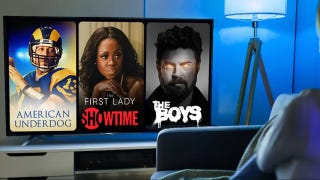 UNDER $1
99¢ Prime Video Channels
It's safe to say that in years past, Weezer would've pulled out an even bigger victory, but all bets are off on the 2018 playing field. Voters are asking themselves a lot of tough questions: Have they even had any good releases since Pinkerton? Is Rivers Cuomo kinda problematic? And perhaps the most damning indictment in the internet era:
And finally:

The Democratic party is in crisis.
Much has been made of the supposed "blue wave" this year, and while the primary results indicate that Dems could score some major midterm victories, the party itself is undoubtedly at a crossroads. The party establishment is being challenged by progressive candidates across the country, and it's still unclear whether voters will fall on one side or the other—or perhaps be torn apart. Many voters, who asked not to be named, said they felt emboldened by strong sentiment from the other side (in both directions), suggesting a reactionary force could be at play that will take shape in the months ahead.
One thing's is for sure: You can ride the ~wave~ of goodwill from the Blue Album for awhile, but eventually, that hash pipe is going to get cashed.