The civil unrest that followed the acquittal of four Los Angeles police officers whose brutal beating of Rodney King was caught on film has been etched into American history—"The Rodney King riots" shorthand for the events also known as the Los Angeles Uprising.
But the uprising wasn't only about the beating of a 25-year-old black man or about the exoneration his assailants. It was connected to a long history of unjust and racist incidents in LA—most prominently, the killing of a 15-year old black girl named Latasha Harlins over a bottle of orange juice.
Latasha Harlins is not a name we remember very well. There are very few published photos of her. But as Brenda Stevenson, an African-American studies professor at UCLA and author of the book The Contested Murder of Latasha Harlins: Justice, Gender and the Origins of the LA Riots, explained to me, her name was prominent in LA's black community during the uprising.
"Often times now the uprising is referred to as the 'Rodney King riots,' which completely wipes away not only Latasha Harlins but the structural problems that African Americans faced in Los Angeles," Stevenson said.
The erasure of black women and girls from the narrative of racism and civil rights in America continues, as initiatives like the #SayHerName report highlight. That's why, as the 25th anniversary of the LA Uprising approaches, it's crucial to resurrect Latasha Harlins's story.
G/O Media may get a commission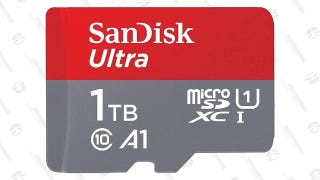 Save $70
SanDisk Ultra 1TB MicroSDXC Card
---
A number of documentaries are being released to mark the 25th anniversary of the LA Uprising. In each of the ones I watched, the time devoted to Latasha's death is brief, though resonant.

Nearly all show the videotape of her killing, and the anger after the light sentence received by her killer, Korean-born store owner Soon Ja Du. National Geographic's LA 92 spends about five minutes recapping this arc. ABC's Let It Fall features one of the witnesses to Latasha's shooting, Lakeshia Combs. Showtime's BURN MOTHERF*CKER, BURN! talks to Latasha's aunt Denise and her cousin, Shinese Harlins, about the day Latasha died, and the anger that arose after Du's sentencing.
But mostly, the documentaries focus on Rodney King, and share Latasha's story as an explanation for the targeting of Korean-owned businesses during the uprising. They don't dive deeply into who Latasha was before her untimely death: How passionate she was about her family and her community, or how she loved to read newspapers and books about inspirational leaders like Martin Luther King, Jr., Malcom X, and Harriet Tubman. They don't go into the never-ending advocacy and activism that her family undertook in her name in the decades since her death.
Latasha Harlins was more than a symbolic spark. She was also a real, young black girl whose life was tragically cut short.
---
In a poem she wrote in February 1991, Latasha Harlins described herself as "reliable, trustworthy, and honest."
Classmates told Stevenson that, growing up, Latasha was shy. She was also smart—an honor roll student—and skilled at track and dancing. Latasha was interested in history, politics, and current events, particularly when they affected the black community. After her mother was killed in 1985, she worked hard to get good grades so she could go to college and become an attorney.
"The most important thing to me is that my family is always protected by a shield so that they won't be harmed by dangerous, ruthless, uncaring people," she wrote in the poem. "If I had one wish it would be to get my mother back to me."
On March 16, 1991, thirteen days after George Holliday captured the beating of Rodney King on videotape, Latasha walked into the Empire Liquor Market and Deli in South Los Angeles.

With a bottle of orange juice in her backpack and money in her hand, she made her way to the counter to pay. Du, who was working in the store, accused Latasha of trying to steal the orange juice, despite the money she had in her hand. This sparked an altercation captured on a security videotape. In the video, Harlins places the orange juice back on the counter and turns to leave. As she walks away, Du picks up a gun and shoots her in the back of the head.

Latasha died there at the store, with the juice money by her hand.
Warning: graphic footage.
The community was outraged. People protested outside of the liquor store where she was killed.
"STOP SHOOTING OUR CHILDREN," they chanted. "WE WANT JUSTICE!"
Instead, Du never served a day in jail for killing Latasha Harlins. A jury found her guilty of voluntary manslaughter—a crime that comes with a maximum sentence of 16 years—but Judge Joyce Karlin let her off with a $500 fine, some community service, and probation.
"It was like a knife going through my heart," Latasha's aunt Denise Harlins told the Los Angeles Times in 1993. "That's when it went through my head to do something, though I didn't know what."

Denise started the Latasha Harlins Justice Committee, a group of family and local community members committed to fighting for justice and remembering Latasha.
Members staged protests and rallies outside of the Du home, and Judge Karlin's home. They gathered petitions to recall Karlin. They hoped to purchase the property where Latasha was killed and turn it into a community center in her memory. Hundreds turned out to march, protest, and rally for justice for Latasha.
When the uprising erupted across Los Angeles on April 29, 1992, protesters chanted Latasha's name alongside Rodney King's, the Times reported.
"There is no justice for black people in Los Angeles—first Latasha Harlins and now Rodney King," a black resident named Pearl Bell told the Los Angeles Daily News at the First AME Church on the night of the King verdict.
In Let It Fall, the ABC documentary marking the anniversary of the uprising, a camera zooms in on archival footage showing a building with Latasha Harlins' name spray-painted next to Rodney King's.
"If it wasn't for Latasha, there wouldn't have been an April 29th," Latasha's aunt Denise told Stevenson a year after the uprising.
Artists like Tupac Shakur memorialized her in rap music, with lyrics like "Latasha Harlins, remember that name, 'cause a bottle of juice ain't something to die for."
But by 1993, the committee's membership had dropped dramatically, from the "high hundreds after the verdict, to about 10," the Times reported. In 1995, just four years after Latasha's death, the paper wrote that only seven people showed up to a memorial rally held in her name.
"[Latasha's story] became marginalized over time as people focused more and more on Rodney King," Stevenson explained to me.
Although decades have passed, Latasha's story—both her killing and her relative obscurity—is hauntingly familiar. Even today, it's much more rare to hear about black women who are victims of violence, whether the perpetrators are police or civilians.
The names of black men who have been killed, like Trayvon Martin, Tamir Rice, Michael Brown, and Eric Garner, have become synonymous with the racism and injustice still coursing through this country. As a result of the efforts made by black women activists to say her name, we may even know about Sandra Bland. But what about other black women who lost their lives to violence, like Korryn Gaines, Tanisha Anderson, Michelle Cusseaux, and Natasha McKenna? Why is it so persistently difficult to raise their stories up alongside those of the male victims we rightfully honor?
And what about Latasha Harlins?
"Why, after all these years, did I not know [Latasha's] name?" asked Huffington Post contributor Ayofemi Kirby earlier this year. "Why, although I prefer not to see the video again, was this footage, her name and the systemic injustice that took her life not as notorious as Rodney King's?"

Stevenson's answer to this was simple. "When we as a community as a people critique the criminal justice system, we principally focus on males," she said. "Men's stories are always more important."