It only took a matter of hours Friday for authorities to begin implementing President Donald Trump's executive order barring immigrants and refugees from predominantly Muslim countries from entering the U.S. That chaotic and quick enforcement affected more than 300 travelers, including those coming to America and others simply in transit to other places.
But human rights advocates, protesters, and other opponents of Trump's new draconian measures targeting Muslims responded just and swiftly and forcefully, mobilizing en masse at some of the nation's top airports to demonstrate that America is a country of immigrants.
The first and biggest rally took place at New York's John F. Kennedy International Airport, where authorities held two Iraqi men, 53-year-old Hameed Khalid Darweesh, a former U.S. government contractor and translator for U.S. troops in Iraq, and 33-year-old Sameer Abdulkhaleq Alshawi, for several hours before eventually releasing them on Saturday.
New York Rep. Nydia Velazquez was at JFK Airport working to get the detained men released:
G/O Media may get a commission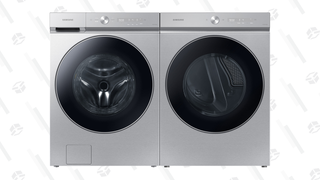 Get $500 back in credit
Last Chance: Samsung Bespoke AI Washer and Dryer Preorder
Darweesh spoke to reporters outside JFK after being released Saturday:
Attorneys for Darweesh and Alshawi had worked through the night Friday to file an emergency appeal to block their detention and deportation to Iraq. On Saturday night, a federal judge in the Eastern District of New York granted an emergency nationwide stay of Trump's executive order, highlighting the U.S. government's disorderly handling of the order and the "irreparable harm" its enforcement would entail.
Judge Ann M. Donnelly also elevated the lawsuit, filed by the American Civil Liberties Union, the National Immigration Law Center, and the International Refugee Assistance Project, to class-action status. A date for a hearing on that lawsuit is pending.
Inside the Brooklyn courtroom, NILC attorney Jackie Vimo tweeted a play-by-play of the proceedings. As she exited the building after Donnelly's monumental ruling, she and ACLU Executive Director Anthony Romero were greeted by hundreds of cheering supporters who braved the crisp New York winter air to support the effort.
Similar peaceful protests spontaneously grew to loud pitch at airports across the country, including Washington's Dulles International Airport, where people cheered as passengers exited the terminal:
A sizeable and enthusiastic crowd also gathered outside Chicago's O'Hare International Airport:
In Los Angeles, one protester just wanted to see his grandmother:
Google cofounder Sergey Brin was among protesters at San Francisco International Airport:
Celebrities, activists, Silicone Valley CEOs, politicians, and even foreign heads of state joined in a chorus of opposition speaking out against Trump's actions, although on Saturday, the president insisted his order somehow wasn't a ban on Muslims, despite the fact that it affects 134 million people from 7 predominantly Muslim countries.
Unfazed by the chaos unfolding around the country, Trump told reporters at the White House, "It's not a Muslim ban, but we are totally prepared. It's working out very nicely. You see it in the airports, you see it all over. It's working out very nicely, and we're going to have a very, very strict ban, and we're going to have extreme vetting, which we should have had in this country for many years."
Opponents quickly stepped in to fight the Trump administration's orders. Airbnb cofounder and CEO Brian Chesky offered free housing to refugees and others caught up in Trump's immigration sweep.
Canadian Prime Minister Justin Trudeau tweeted that his country would welcome refugees with open arms:
And a petition to cancel Trump's planned visit to the U.K. later this year gathered more than 100,000 signatures in just a few hours.
More protests are scheduled today in a dozen U.S. cities, including Philadelphia, Washington, Atlanta, Boston, New York, and Chicago.