House Speaker John Boehner shelved immigration reform thanks to a recalcitrant bloc of Tea Party lawmakers, a top Democrat said Thursday.
Sen. Charles Schumer (N.Y.), a chief architect of the Senate's immigration overhaul, believes the GOP-controlled House could still move forward with its own plan this year. But he said Boehner (R-Ohio) fears a backlash from "hard-right Tea Party people who are against immigration at all costs."
"I think that they scared him away from doing immigration right now," the third-ranking Senate Democrat told Fusion's Jorge Ramos. "But I don't think it's over. I don't think it's dead."
Boehner and GOP leaders rolled out a set of principles on immigration reform that included a pathway to legal status for undocumented immigrants, encouraging pro-reform advocates that Congress could tackle the issue this year.
But the Speaker poured cold water on negotiations a week later, when he said that legislative action would be difficult because of the GOP rank-and-file's distrust of President Obama.
G/O Media may get a commission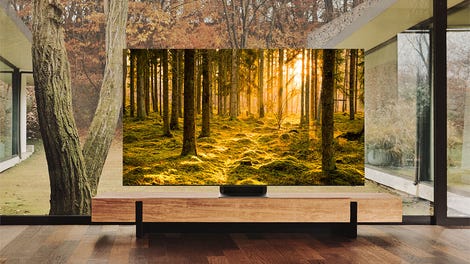 Up to 40% off
Samsung Smart TVs
A group of conservative organizations and lawmakers has long decried legal status for undocumented immigrants as "amnesty" and have resisted taking up the issue in an election year. Schumer believes they were successful in stymieing support for the principles set forth by GOP leaders.
"I think Speaker Boehner when he put out his principles had good intentions, that he wanted to try and move immigration reform forward," he said. "But he got a lot of blowback within his caucus."
Schumer claimed there are between 240 and 250 House members who would vote for the Senate's plan, which includes a full pathway to citizenship. That's more than enough to pass a bill, but Boehner's office, for its part, has said the votes aren't there.
Schumer's vote count does not include a majority of Republicans, something Boehner has said is necessary to move forward on an immigration bill. It's highly unlikely the Speaker would break with his conference and depend on Democrats to move legislation, like he did on the debt ceiling.
Still, Schumer said he is "guardedly optimistic that we can get it done before the 2014 elections" thanks to the efforts of Hispanic, business and religious groups.
"Republicans know they won't win the presidential election, no way, if they don't do immigration reform," he said.
While some GOP lawmakers might want to wait until next year, Schumer believes the chances of getting something done then are even less.
"2015 starts the presidential primaries," he said. "We all know the Republican primaries push their candidates to the right, and so I think it would actually be harder in 2015 than in 2014."
Jordan Fabian is Fusion's politics editor, writing about campaigns, Congress, immigration, and more. When he's not working, you can find him at the ice rink or at home with his wife, Melissa.