Environmental Protection Agency administrator Scott Pruitt is a true self-parody when it comes to comical abuses of power, and nothing about Pruitt is funnier than his obsession with being Extremely Safe.

Pruitt has spent nearly double the amount on security as previous EPA heads, according to the New York Times. And he spent more than $43,000 for a soundproof phone booth to be installed in his office so he can take very important calls, likely from his dear friend Todd Oilandgas.
A new report by the Intercept dives deeper into Pruitt's security spending, the details of which were obtained by a FOIA request. According to the site, Pruitt has spent $4.6 million so far in his reign as the head of the EPA. Here's some of what they bought (emphasis mine throughout):
Records released under the Freedom of Information Act list expenditures totaling $288,610 on a range of security-related items. The EPA, according to three expense line items for April, spent a total of $2,749.62 on "tactical pants" and "tactical polos."

Since last year, shortly after his Senate confirmation, Pruitt's office began purchasing security-related items, including multiple vehicle leases, over $80,000 worth of radios, $700 in shoulder holsters for the radios, and a kit to break down doors, among other purchases.

Nearly $3,000 for tactical pants and tactical polos. Tactical pants! And polos! Which tactic involved in protecting this guy—who, depressingly, most Americans probably couldn't pick out of a lineup—requires thousands of public dollars for uniforms?
What makes this whole thing even dumber is the fact that Pruitt's office effectively lied in its justification for why he needs all of this shit, as EPA spokesman Jahan Wilcox said in April that Pruitt had seen an "unprecedented" number of death threats which required not only a full-time security detail of 20 armed officers, but also first-class flights for Pruitt. But after an inquiry by Senate Democrats Sheldon Whitehouse of Rhode Island and Tom Carper of Delaware (full disclosure: I interned for Carper in college), records showed that the EPA's Office of Homeland Security Intelligence had "not identified any specific, credible, direct threat to the EPA administrator," according to the Associated Press.
G/O Media may get a commission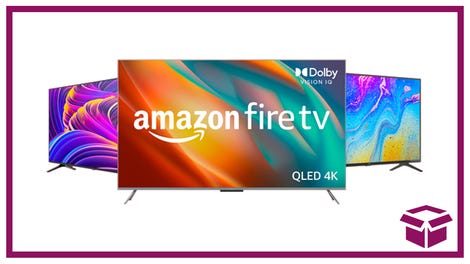 Ooh. stunning.
New Amazon Fire TVs
Some of those "threats" that Pruitt's team cited, on the other hand, included activists attempting to disrupt one of his speeches (wonder why they'd do that) and a postcard that said "CLIMATE CHANGE IS REAL!!! We are watching you." Frightening!
Finally, the Intercept report also includes this incredible detail:
The agency also spent $931 in September 2017 on a "breaching kit" — items typically used by law enforcement to gain entry to a locked building or vehicle. Pruitt's security team has run into problems with locked doors before: His security detail called the police to his apartment on March 29, 2017, when they became concerned that they couldn't contact him. Pruitt was taking a nap, but the police and guards smashed down the door and eventually had to pay $2,460 to replace it. Despite that embarrassment, the security detail now has its own door smasher.
The Republican Party, the party of small government, counts among its ranks a cabinet-level agency head who has put a "door smasher" on his security tab just in case he's too sleepy to hear the doorbell. (Remember this the next time they tell you that they don't have the money to pay for social programs.)
As dumb and corrupt as Pruitt is, the foremost scandal is the fact that he's allowed his department to be warped into a feckless tool of the energy industry, with an ethos that places business above sound science and the very real, pressing need to combat climate change. All we can do is look forward to the day when we have an EPA administrator who understands that climate change and its effects are actively killing humans' ability to live on this planet, so we can convince them to get our coastal cities some tactical pants.