Since reality has basically become a never-ending made for TV drama, which we are all non-consensual participants in, I guess it's unsurprising that the Environmental Protection Agency wants in on the gig. On Tuesday Scott Pruitt, EPA Administrator and climate change "skeptic" (read: denier), told Reuters he was in the early stages of planning a climate change debate to air on TV.
Allow me to give you a brief plot treatment: Pruitt, along with the EPA's potentially dwindling budget, would hand select scientists to "have a robust discussion" about climate change while the world watches. That is if Pruitt could even convince any researchers to debate and it's also unclear how they would be picked.
Here's how Pruitt's would-be show was explained by Reuters:
"There are lots of questions that have not been asked and answered (about climate change)," EPA Administrator Scott Pruitt told Reuters in an interview late on Monday.

"Who better to do that than a group of scientists... getting together and having a robust discussion for all the world to see," he added without explaining how the scientists would be chosen."

Pruitt also offered his opinion of climate change and presumably an opinion he hopes to convey through the debate:
"It is a question about how much we contribute to it. How do we measure that with precision? And by the way, are we on an unsustainable path? And is it causing an existential threat?" he said in the interview.

G/O Media may get a commission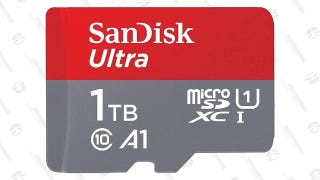 Save $75
SanDisk Ultra 1TB MicroSDXC Card
Not that anyone thought the energy company loving EPA Administrator would regret persuading President Trump to pull out of the Paris Climate Agreement, but Pruitt wanted the world to know they had zero regrets.
"We have nothing to be apologetic about. It was absolutely a decision of courage and fortitude and truly represented an America First strategy with respect to how we are leading on this issue," said Pruitt.
We can thank New York Times columnist Brett Stephens for this possible debate. Pruitt told Reuters that he was inspired by Stephens's reviled column suggesting a climate change consensus wasn't how science should work.
"If you're going to win and if you're so certain about it, come and do your deal, Pruitt told Reuters. "They shouldn't be scared of the debate and discussion."

While Pruitt has a point, the impending doom of earth's warming, I think, is far scarier for scientists than debating a kook propped up by the EPA on television. Let them debate, but let the selection process work like American Idol for scientists — we get to decide who has a "robust discussion" about our future.