A new report published by the Washington Post on Friday claims that Environmental Protection Agency chief and crooked slimeball Scott Pruitt is essentially using his government position to take fancy trips around the world with the help of corporate lobbyists and mega-rich "advisers."

From the Post:
After taking office last year, Pruitt drew up a list of at least a dozen countries he hoped to visit and urged aides to help him find official reasons to travel, according to four people familiar with the matter, who spoke on the condition of anonymity to discuss internal agency deliberations. Pruitt then enlisted well-connected friends and political allies to help make the trips happen.
Among the spots Pruitt just had to visit: Italy, Morocco, Australia, Israel, Japan, India, and, um, Canada. So far, however, he's only made it to the first two, despite extensive (and expensive) advance work on a number of other since-canceled trips.
And it's not just the "where" that's so sketchy. It's the "who" as well. In Italy, Pruitt reportedly invited Federalist Society Executive Vice President Leonard Leo into an official EPA meeting with Archbishop Paul Gallagher. Why? Why not! It's a pattern that repeated itself in Morocco, where Pruitt pal and lobbyist Richard Smotkin was allowed to tag along on a number of meetings. (Smotkin later signed a $40,000-a-month lobbying contract with the Moroccan government.)
G/O Media may get a commission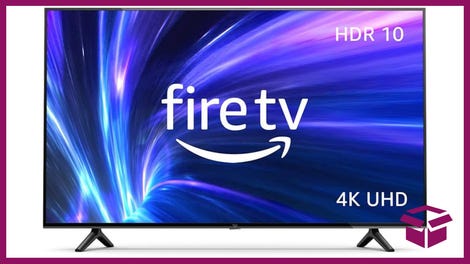 42% Off
Amazon Fire TV 50" 4K Smart TV
Even the itineraries on these trips are suspiciously vacation-ish.

Other proposed stops [in a since-canceled Israel trip arranged by GOP megadonor Sheldon Adelson] were less clearly related to his mission, such as excursions to the City of David and the Galilee region, where Jesus once preached.
In a statement to the Post, an EPA spokesman claimed the agency's Office of International and Tribal Affairs "organized and led the effort" to arrange a number of Pruitt's trips. The spokesman did not address the charges that those trips were, in part, arranged with the input of outside donors, pals, and lobbying interests.
I am beginning to think that Scott Pruitt might be.....corrupt?