Sean Spicer, former White House press secretary and super-chill Emmys guest, admitted in a Thursday interview that he "screwed up" certain aspects of his role in the Trump administration.

In video excerpts from an HLN interview that will air in full on Thursday night, host S.E. Cupp pressed Spicer to answer such probing questions as "Do you think you maintained your credibility?" and "Can you admit you said some things that were not true?"
Spicer admitted that some of the statements he made as Press Secretary—like the one where he claimed Hitler never used chemical weapons—were incorrect, telling Cupp, "I screwed that up royally...it felt really bad."
Spicer told the New York Times in September that he regretted arguing with reporters over inauguration crowd size, but he still doesn't seem ready to concede that particular point, insisting to Cupp that when he falsely stated that Trump drew the largest inauguration crowd in history, he was taking into account viewers across "platforms, like Twitter and Facebook and Instagram, that were not available in previous administrations."
G/O Media may get a commission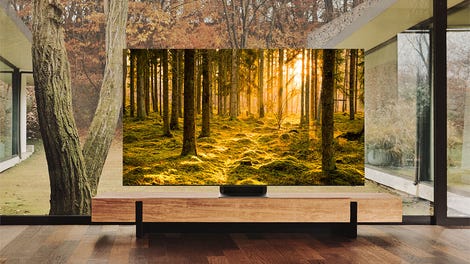 Up to 40% off
Samsung Smart TVs
(Note: Facebook was launched in 2004, Twitter in 2006 and Instagram in 2010, so all three platforms have been around for at least one prior administration.)
"One thing I do regret is that we didn't emphasize those points enough," Spicer lamented.
Throughout the HLN interview, Spicer insisted he never intentionally lied during his tenure as Press Secretary, telling Cupp, "At no time did I go up and say something that was...demonstrably false intentionally." Instead, Spicer offered a not-quite mea culpa to the American people that essentially boils down to, "Well, folks, Spicey really beefed it."
Spicer also found time to express concern over his former colleague Steve Bannon not denying the anti-Trump statements attributed to him in Michael Wolff's forthcoming tell-all, "Fire and Fury: Inside the Trump White House."
"While [Bannon] continues to say he's a supporter of the President and his agenda, what we didn't hear is a denial," Spicer pointed out to Cupp.
For his part, Spicer remains inexplicably loyal to his former boss, calling his tenure in the Trump White House "the honor of a lifetime." High praise, coming from a man who has had the unique privilege of being impersonated by Melissa McCarthy.