Our favorite Nazi-linked Hungarian and former Trump staffer Sebastian Gorka has apparently been handing out fake Fox News business cards. A journalist who received one of the cards from Gorka tipped off Mediaite, who posted a photo of the knockoff.

Aside from the terrible design and font choice, there are a few details that tip us off to this card's ersatz nature. Below, another photo from Mediaite shows what a true Fox News card looks like.
First of all, no one who actually works full time for a company would list their Gmail account on their business card—even contractors, like me, often have emails with their employer. It's also clear that the address Gorka lists on his card is not the actual Fox News headquarters. In fact, from what we can see, the address on Gorka's card seems to be his home address.
G/O Media may get a commission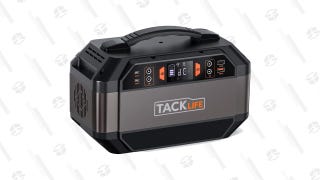 Tacklife Portable Solar Generator
Then, of course, there are the visual differences. The real Fox News card isn't exactly classy, but it at least looks like it was created by someone who has familiarity with basic graphic design. Gorka's card looks like something a freelancer would whip up in Photoshop (it seems his design skills haven't improved since he completed his Ph.D). And of course, the logo is different. The real card has the latest version of Fox's logo, including the word "channel," while Gorka's card features a rare version the Fox logo that seemingly hasn't been used since 1996.
So why does Gorka not have a legitimate Fox News card? He was hired by the station in November of 2017 after leaving the Trump White House. However, a recent report from The Daily Beast revealed that Gorka is "no longer welcome" on Fox's hard news shows due to his lack of credibility. Gorka responded to The Daily Beast's request for comment: "Seriously? You are such a loser. Get a life."
There are a few possibilities here. One is that Gorka was hired by Fox on a contract basis and therefore doesn't receive business cards. Another is that he simply hasn't gone to the trouble to request business cards, though it does seem like that would be easier than creating them yourself.
As a contract worker, I know how confusing it can be to clarify where you work to people unfamiliar with the freelance industry. But it's usually good to work out those details with your employer, rather than going rogue under their name.
Fox News and Gorka didn't respond to Mediaite's requet for comment. We've also emailed Fox asking for clarification on Gorka's role there and any comments they might have on the business card debacle. We'll update you if we hear back.