Mexicans wrapped up their weekend with a twist worthy of a telenovela: authorities say Mexican marines gunned down Nazario "El Chayo" Moreno, also known as "The Craziest One" and "Crazy Macho." He was one of the founders and heads of the notorious Knights Templar drug cartel.
The twist: it's the second time El Chayo's killing has been announced in four years. The first time he supposedly died was in 2010, in a confrontation with Mexican authorities.
El Chayo's demise could be significant in Mexico's ongoing drug war. He was the founder of La Familia Michoacana, a cartel from the western state of Michoacan. Following the first announcement of his death in 2010, La Familia Michoacana started fracturing, and a new group, the Knights Templar, took over much of the region. Although they've sought to portray themselves as benevolent with strict code of moral conduct, the cartel has been accused of extortion, rapes and kidnappings in the embattled state of Michoacan. Several months ago, the state became engulfed in an armed conflict between citizen self-defense groups and the cartel.
See: Vigilante Movement Grows in Mexico
How does someone die twice?
The news of El Chayo's death raises questions about why the government reported his killing in 2010, despite the fact that a body was never found.
G/O Media may get a commission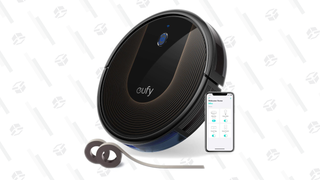 48% Off
Eufy BoostIQ RoboVac
"El Chayo Dies Again" read a tongue-in-cheek local newspaper headline. Among the many joking, sarcastic tweets was a movie reference, "It's like a Bruce Willis movie "Die Hard, El Chayo."
The announcement of his death in 2010 was a major landmark in former President Felipe Calderon's crackdown on the cartels, except for one small problem: no evidence of his killing was ever presented, though authorities assured the public that such evidence did, in fact, exist.
"We have a lot of evidence that allows us to believe he is dead," said then Attorney General Arturo Chavez Chavez in a 2010 press conference.
Despite the announcement, rumors continued that El Chayo was still alive. In a press conference Sunday evening, Alejandro Rubido Garcia, executive secretary of Mexico's National Public Security System, explained that Mexican officials received constant reports that "El Chayo" was continuing his illicit activities, which led to the investigation that resulted in Sunday's confrontation.
For weeks now, Mexican authorities have been combing through Michoacan in search of El Chayo. Even though other Knights Templar members had been captured, critics said no high-ranking ones had been touched. That changed on Sunday, when the government announced that El Chayo was cornered and killed near Tumbiscatío, Michoacan. At least one unofficial photograph of a battered, bloodied corpse — allegedly that of "El Chayo" — was circulating in social media and various local news outlets.
Tomas Zeron, head of the investigative criminal agency for the Attorney General of Mexico, said fingerprints taken on the body proved this time, El Chayo is 100 percent dead.
El Chayo is not the first narco to die twice. In late February, Mexican authorities announced that Francisco Galeana Nuñez, also known as El Pantera, another leader of the Knights Templar, was dead. Again, there was a catch: he'd been allegedly killed in April 2013.
Who was El Chayo?
Born in 1970, in Apatzingán, Michoacán, El Chayo emigrated illegally to the U.S. in the late 1980s, where he lived for nearly a decade. He fled back to Mexico in 2003, to avoid drug trafficking charges in Texas.
El Chayo was an icon in the Knights Templar cartel, especially after his alleged death in 2010. He was seen as a spiritual leader of sorts, and the cartel often used religion as a recruiting tactic. He saw himself as a savior who did works of philanthropy among the poor in Michoacan. Religious altars celebrating El Chayo were not uncommon among Templarios.
But many in Michoacan did not see the Knights Templar in the way they saw themselves. Michoacan has been in the news this year as various armed citizen self-defense groups, known as autodefensas, rose up against the Knights Templar, saying they were tired of the violence, abuses and taxes imposed on everyday people in Michoacan.
See: California Workers Finance Vigilante Groups in Mexico
Following a series of armed confrontations between the self-defense militias and the Knights Templar, the Mexican government stepped in with a controversial move: legalizing the militias. Since then, many high-ranking members of the Knights Templar have been captured, and the cartel's influence has waned across the state as the citizen militias have gained ground.
See: Avocado Trade Now Supports Mexican Militia Groups
Does El Chayo's death matter?
Although it's too soon to speculate about what impact, if any, the killing of El Chayo will have on the Mexican drug trade, one thing is certain: in the last few months, the Knights Templar have been dealt serious blows, as various high ranking members have been captured, such as Jorge Armando Cuamba Villalobos, "El Chito", and Luis Licea Figueroa "El Pollo", who oversaw drug production at clandestine laboratories.
See: Switching Sides in Mexico's Drug War

The killing of El Chayo is the second major crackdown on drug trafficking for Enrique Peña Nieto's administration in the last few weeks. Earlier this month, the notorious leader of the Sinaloa Cartel, Joaquin "El Chapo" Guzman, was captured in the city of Mazatlan. He was the world's most wanted narco.