Last year, researchers found that when kids met a robot in the mall, they would often try to beat it up. Last week, at a shopping center in the Bay Area, the opposite happened: a security robot took out a toddler.
Reports Lilian Kim at ABC 7:

[L]ast Thursday, 16-month-old Harwin Cheng had a frightening collision with the robot. "The robot hit my son's head and he fell down facing down on the floor and the robot did not stop and it kept moving forward," Harwin's mom Tiffany Teng said.

Harwin's parents say the robot ran over his right foot, causing it to swell, but luckily the child didn't suffer any broken bones.
The robot is the same one patrolling an Uber parking lot: a 5-foot-tall, 300-pound white, egg-shaped surveillance robot made by San Francisco start-up Knightscope. The robots are not weaponized or meant to engage with humans; they're just meant to document things gone wrong. The robot has multiple high-definition cameras for 360-degree vision, a thermal camera, a laser rangefinder, a weather sensor, a license-plate recognition camera, four microphones, and person recognition capabilities.
G/O Media may get a commission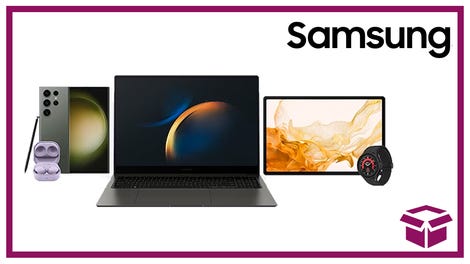 24 hour deals
Discover Samsung - Daily Deal
But apparently, it's not so great at recognizing small, toddler-sized people.
The Stanford Shopping Center, which has had the robot roaming its premises since last year, did not respond to a media request. But the robot maker did. Stacy Stephens, Knightscope's VP of marketing, said that many of the company's employees are parents and that "hearing a report that one of our machines may have injured someone is absolutely horrifying."
Stephens said this was the first such incident the company has had with its machines having operated for 35,000 hours and having traveled over 25,000 miles.
"Similar to every other technology company in Silicon Valley, Knightscope strives to make improvements on a daily basis," said Stephens by email. "Our core mission is to ensure public safety, and we are taking this report very seriously."
Everyone makes mistakes, even robots. So it may be a good idea to keep small children away from robots that are taller than them.
"We have reached out to the mother to invite her to our office to meet the entire Knightscope team," said Stephens. "We would all like to have the opportunity to apologize to her and her child directly. At this time, we have not yet heard back from her."
I'm guessing that mother doesn't want to chance another robot close encounter.