Sen. John McCain doesn't think the Republican health care bill will make it through the Senate. During a Face The Nation interview over the weekend, McCain made a tangential comment about the not-yet-scheduled health care bill vote. "I think my view is it's probably going to be dead," McCain told host John Dickerson.
Following up, the Arizona Senator explained that in an effort to "ram" the bill through Congress, Republicans produced a sloppy bill. "And if you shut out the adversary or the opposite party, you're going to end up the same way Obamacare did," McCain said.
His solution? Democracy! Seriously, that's what he recommended:
I fear that it's going to fail. And then we should convene a Republican conference, say, "What are we going to do?" Introduce a bill. Say to the Democrats, "Here's a bill." It doesn't mean they don't, that they control it. It means they can have amendments considered. And even when they lose, then they're part of the process. That's what democracy is supposed to be all about.
As of July 6, the GOP proposed health care bill doesn't have enough votes to pass through the Senate. The Washington Post reported that 14 Republican Senators have either outright opposed the bill or expressed doubt about its efficacy. If more than two GOP Senators vote against it, the legislation will not pass.
But before you breathe a sigh of relief— even McCain admits his guess isn't necessarily the most reliable. "I've been wrong." McCain joked. "I thought I'd be President of the United States."
G/O Media may get a commission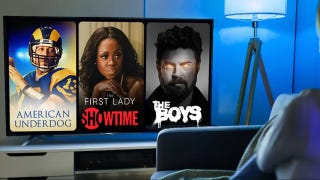 UNDER $1
99¢ Prime Video Channels
Yeah, I wouldn't put my money on it.