Senate Republicans narrowly approved their budget on Thursday night, inching one step closer to passing their version of a tax cut — a plan that amounts to a massive break for the wealthy, but not so much for everyone else and isn't much of a tax cut at all.
Voting mostly along party lines, the budget blueprint was approved 51 to 49. Ever the contrarian, Senator Rand Paul of Kentucky withheld his vote due to the proposal's allegedly excessive spending.

Much like their failed attempt to jam through an Obamacare repeal, Thursday's vote allows Republicans to pass tax legislation with 50 votes by a procedural measure — rendering Democratic votes essentially useless.

"Tonight, we completed the first step toward replacing our broken tax code," Senate Majority Leader Mitch McConnell said after the vote. "We have a once-in-a-lifetime opportunity to replace a failing tax code that holds Americans back with one that actually works for them."

The problem with McConnell's once-in-a-lifetime bit is, of course, that it's not true. If passed, the GOP's tax plan would raise taxes on the lowest earners, lower the tax rate for the nation's highest earners, repeal an estate tax that only benefits the wealthy, and, among other things, add trillions to the deficit.

G/O Media may get a commission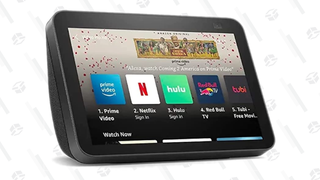 Senate Minority Leader Chuck Schumer succinctly summarized just how catastrophic the Republican tax plan would be speaking to The New York Times after the vote. "This nasty and backwards budget green-lights cuts to Medicare and Medicaid in order to give a tax break to big corporations and the wealthiest Americans," he said.
Senator Bernie Sanders of Vermont was more succinct and appalled in his statement on the budget's passage, shared to Twitter:
Also included in Thursday's budget resolution was a measure that would allow Republicans to open up the Arctic National Wildlife Refuge for drilling by a simple majority vote. The Senate's budget must still be approved by the House, but Speaker Paul Ryan signaled it would be passed without difficulty.
"I applaud the Senate for passing a budget," Ryan said in a statement. "This action keeps us on track to enacting historic tax reform that will mean more jobs, fairer taxes, and bigger paychecks for American families. We want Americans to wake up in the new year with a new tax code, one that is simple and fair."