Update, 7:00 pm: According to the New York Times, Kavanaugh and Ford's hearing is scheduled for next Monday. This will delay Kavanaugh's confirmation vote, which was scheduled for this Thursday.
"Judge Kavanaugh looks forward to a hearing where he can clear his name of this false allegation. He stands ready to testify tomorrow if the Senate is ready to hear him," said White House spokesman Raj Shah.
Original story continues below:
The Senate Judiciary Committee will hold a public hearing with Supreme Court nominee Brett Kavanaugh and the woman who has accused him of sexual assault, Christine Blasey Ford, the Washington Post reports.

From the Post:
Two officials familiar with the nomination process said Monday that Kavanaugh would return to testify before the panel. The development came a day after The Washington Post published a first-person account from a woman who alleged that Kavanaugh sexually assaulted her when they were in high school.
G/O Media may get a commission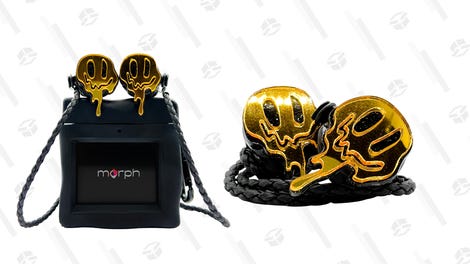 morph audio
Morph Earphones
Earlier today, after defending Kavanaugh, President Trump told reporters that some kind of hearing would be held. "We want to go through a full process," Trump said. He added that the senate would "go through a process and hear everybody out."
"If it takes a little delay, it'll take a little delay," Trump said. "It will, I'm sure, work out very well."
Ford's attorney said she was willing to testify in front of the committee.
Kavanaugh had a call scheduled with staffers on the committee for 5:30 pm today. In a statement, the ten Democratic members of the committee unanimously opposed the call.
Republican senators began to defend Kavanaugh against the allegations on Monday. Sen. Orrin Hatch claimed that Kavanaugh had told him he wasn't at the party where he allegedly assaulted Ford. "If I recall it correctly, he wasn't even there," Hatch said. "I believe him. He's a person of immense integrity. I've known him for a long time, he's always been straightforward, honest, truthful, and a very, very decent man."
This story is developing and will be updated as more information becomes available.