While riding in the car with her 18-year-old nephew on Tuesday, Serena Williams was flooded with dread the moment she saw saw a cop car parked on the side of the road watching as traffic passed by.
In a Facebook post she wrote not long after, the tennis champion described that while her nephew, who was driving, was doing nothing wrong, she was overcome with fear and concern that his blackness meant that if the police decided to pull them over, things could quickly take a turn for the worse.
"I quickly checked to see if he was obliging by the speed limit. Than I remembered that horrible video of the woman in the car when a cop shot her boyfriend," Williams wrote, referring to the footage of Philando Castile's shooting that was streamed to Facebook Live. "All of this went through my mind in a matter of seconds. I even regretted not driving myself."
That brief moment of worry prompted Williams to think about her status as one of the most visible black public figures in the world, and what how she was using her platform to speak about race and police brutality in the US.
G/O Media may get a commission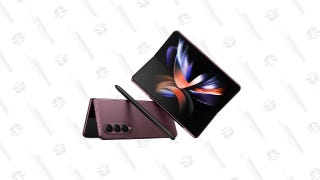 Save Up to $300
Galaxy Z Fold4
"I [then] wondered than have I spoken up? I had to take a look at me. What about my nephews? What if I have a son and what about my daughters," Williams explained. "As Dr. Martin Luther King said 'There comes a time when silence is betrayal.'"