Serena Williams will be ending a 14-year boycott of a tennis tournament at Indian Wells, Ca. this March, the athlete has announced.
Williams, still the world No. 1 in women's tennis, won her first professional match at Indian Wells in 1997. But her relationship with the tournament soured after a 2001 incident in which she was booed and called racial epithets by a mostly white crowd. She won the tournament just after the incident, and began her boycott shortly after.
Williams explained why she stayed away from the tournament for so long in a Time.com essay:

It has been difficult for me to forget spending hours crying in the Indian Wells locker room after winning in 2001, driving back to Los Angeles feeling as if I had lost the biggest game ever—not a mere tennis game but a bigger fight for equality. Emotionally it seemed easier to stay away. There are some who say I should never go back. There are others who say I should've returned years ago.
But part of the reason Williams says she will be returning to the tournament is because she has recently realized "how far the sport has come" when it comes to racism. A few months ago, when a Russian tennis official made sexist and racist comments about her and her sister, the Women's Tennis Association and the United States Tennis Association immediately condemned him, she noted, resulting in him getting fined and being issued a one-year suspension.
In this clip from the 2011 documentary The Black List, Williams talked about her black family's struggles within the mostly white world of tennis. "I'm traveling to Europe all the time, I'm traveling to Russia—where you can count the black people—usually it's just me and my mom," she said.
For her return to the tournament, Williams announced that she is helping raise funds for the Equal Justice Initiative, a non-profit group that provides legal representation to defendants and prisoners who have been "denied fair and just treatment in the legal system," a class which is disproportionately made up of minorities. Those who donate $10 or more will be entered into a lottery to join her during the return trip.
G/O Media may get a commission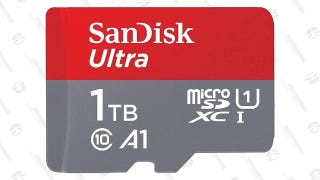 Save $75
SanDisk Ultra 1TB MicroSDXC Card
"It's incredibly important work, and your support will help us achieve a better, safer world by strengthening families and communities," she said in a YouTube video released this morning.
"I have faith that fans at Indian Wells have grown with the game and know me better than they did in 2001," she wrote in Time. "Indian Wells was a pivotal moment of my story, and I am a part of the tournament's story as well. Together we have a chance to write a different ­ending."
Daniel Rivero is a producer/reporter for Fusion who focuses on police and justice issues. He also skateboards, does a bunch of arts related things on his off time, and likes Cuban coffee.