As the mega-watt bass of the Tampa Amphitheatre pounds through the walls of Seven Lions' green room, Jeff Montalvo (his real name) cracks open a beer before calmly and politely sitting down for the interview. Not sure if it was the Jesus-like hair, but out of all the EDM artists we've interviewed he seemed to be the most down-to-earth. No gimmicks, no fake media persona, no filter. Just Jeff.
While most of the audience consisted of new fans packed in to hear 'Strangers', his massive collaboration with Myon and Shane, Seven Lions doesn't mind because he says that song is "a gateway to introduce my music to an audience that probably wouldn't hear it otherwise." Beyond the smoke and long-haired headbanging, Seven Lions is pioneering a new wave for dubstep. A more melodic and, well, listenable one.
In keeping with the "Seven" theme, we asked seven questions about the seven deadly sins he's encountered while on the North American leg of his "Worlds Apart" tour:
LUST
Q: You're currently on your Worlds Apart tour. What's been the most lustful thing you've seen a fan do?
G/O Media may get a commission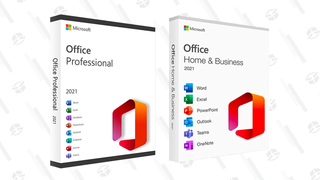 89% off
Microsoft Office Professional 2021 Lifetime License
Seven Lions: I've seen some pretty crazy sh-t. I'd say using my stickers as pasties is always my favorite for sure.
GLUTTONY
Q: Drinking can be a gluttonous sport on tour. What's your limit?
SL: It depends. I don't get black out drunk very often but when I do I'm carried out of the club and I don't remember anything the next day. So it's a hit or miss kinda thing.
GREED
Q: What's the strangest thing you hoard?
SL: Probably music. I collect a lot of music. A lot of metal.
SLOTH
Q: What's been your laziest moment on tour or during a performance?
SL: Probably days where I just go straight to the hotel room and sleep until the show and don't do anything. Order room service. I always make sure I'm on point for a show. The only time I get lazy during a show is if the crowd totally sucks ass. And that hasn't happened on this tour.
WRATH
Q: What really infuriates you? And who/what do you take it out on?
SL: I have to think about that one. That's deep. I'd say religious people piss me off deeply and Republicans. Especially religious Republicans. I don't really take it out on anything, I just wait until they get old and die.
ENVY
Q: Is there any other DJ/producer's song you wish you had created?
SL: I like everything NERO makes. I feel like they're really respectable. I guess I'm just jealous I didn't get into the dubstep scene in a big way earlier on. Because by the time I had really broken through it was starting to move away. So, I'm like damnit!
PRIDE
Q: Did your pride allow you to be dishonest about any of the questions you were just asked?
SL: Um. I don't think so. I feel like I answered them pretty straight up. Probably more than I should have to be honest.
Catch Seven Lions on his "Worlds Apart" tour.