MEXICO CITY— 'Tis the season for syncretism.
Christmas in Mexico is that magical time of year when locals flock to church to venerate the Virgin of Guadalupe, and then swing by the mall on the way home to get their photos taken with Santa Claus.
Mexicans have learned to embrace both traditional icons over the years. But nothing could have prepared them for this year's latest addition: Sexy Mr. Claus.
Mr. Claus is a fit, studly hipster who looks like he walked out of a European fashion magazine. He's the Christmas posterboy for the country's best known department store, El Palacio de Hierro.
G/O Media may get a commission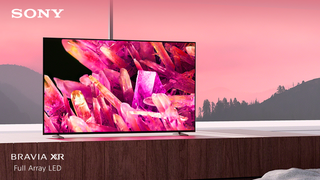 $400 off
Sony 55 Inch 4K Ultra HD TV X90K Series
The sexy Santa campaign seems directly inspired by a similar marketing effort from a Canadian shopping mall known as Yorkdale, which actually used the same male model for their "Fashion Santa" advertisements in past years.
The Mr. Claus campaign has all the elements that Mexicans love to hate: a fixation on foreign beauty standards, global consumerism, and the Americanization of Christmas.
It comes complete with the hashtags #QueridoMrClaus or #DearMrClaus for people to ask for Christmas gifts. And while some are using the hashtag to ask for some one on one time with Santa, others are slamming him for promoting what they see as cultural colonialism.
"Dear Mr. Claus, I want you to come through my chimney"
"This Christmas I want someone that looks just like you. Any chance you have a twin brother?"
"And that's when you realize Mrs. Claus read 50 Shades of Gray"
"What the fuck is happening to us? This is the expression of aspirational consumption. Poor Santa Claus!"
"I can confirm that the worst part of 2015 was Palacio de Hierro's damn pretentious campaign for Mr. Claus."
To the dismay of many, the campaign even created a Facebook profile for the sexy Mr. Claus to interact with his adoring followers. "Tell me what you post on your wall and I'll tell you the gift you deserve" and "In my defense, I'll only say I used beard and boots way before the hipsters," says the strapping Santa.
Perhaps the real controversy surrounding Mr. Claus is that he's become popular, despite most Mexicans' better judgement. And like the Virgin of Guadalupe before him — a religious symbol that helped impose Spanish Catholicism but was also used by the Mexican independence movement to unite against Spanish rule —  the sexy Mr. Claus mirrors a society that seems to embrace cultural colonialism as much as it despises it.