Nas and Jay-Z are routinely cited as some of hip hop's top lyricists, and both rappers have argued that hip hop is a form of poetry. So how do Hov and Nas stack up against the most famous poet in history: Shakespeare?
Matthew Daniels, a designer, coder, and data scientist living in New York City, decided to find out. Daniels took the first 35,000 words of 85 top artists' careers and compared them against the first 5,000 words of seven Shakespeare works. His plan was to find out how many "unique words," or words rarely repeated by others, each artist had.
So how do today's rappers stack up? Aesop Rock, who Daniels originally considered to be too obscure to include, topped the list, with a total of 7,392 unique words. Daniels' interactive graph shows where the other artists fall on the vocab chart compared to the likes of Shakespeare and Herman Melville.
Daniels doesn't claim to be an expert on hip hop vocab and lyricism, but does hope that his calculations provides some fodder for conversation.
G/O Media may get a commission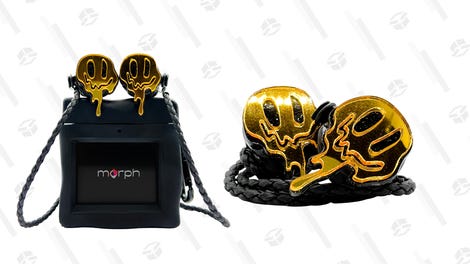 morph audio
Morph Earphones
"Having a big vocabulary doesn't make someone a better artist," Daniels told Fusion. "But it's interesting to see which artists came out on top."
Most impressive, according to Daniels, is the collective vocabulary of the Wu-Tang Clan, who took the #6 spot.
All images courtesy of Matt Daniels
"People on Reddit have been pointing out that, because they're a group, of course Wu-Tang would have the highest number of words," Daniels said. "But I'd argue the opposite: you have solo members all using unique words. It's very impressive."
Daniel's infographic is full of great information, including a breakdown based on region. And while the south has the lowest average of unique words, southern rap group Outkast landed at #15.
Some of today's top hip hop artists - Drake, Snoop, Lil Wayne, Kanye - landed in the bottom 20 percentile of the rankings. "While Lil Wayne has never been celebrated for the complexity of his word choices," Daniels writes, "I expected 2pac, Snoop, and Kanye to be well above average."
Also interestingly, Daniels says he pursued the project as part of an effort to teach himself coding. Rather than just reading a book and going through the motions, Daniels wanted to frame his work around an actual project.
"It's the equivalent of learning a language in a classroom vs. going to the country to learn it," Daniels said. "I'm still very much an amateur."
Amateur or not, Daniels' hip hop vocab study has sparked a lot of interest. If you want more hip hop analysis, check out his look at the etymology of "shorty" and his breakdown of Outkast using graphs and charts.
Alexandra DiPalma is a producer for Fusion Lightworks, Fusion's In-house Branded Content Agency.