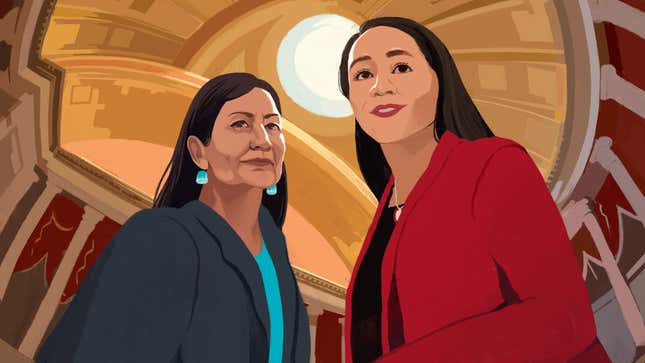 Earlier this month, on the floor of the House of Representatives, two women embraced each other.

The moment—captured by an eagle-eyed C-SPAN videographer—lasted no more than 10 seconds. One of the women was crying. Then the gavel banged. "The House will be in order," a voice said over the room's loudspeaker. And Sharice Davids and Deb Haaland broke apart. They had made it—the first Native American women ever elected to Congress.
Like most firsts, the tagline has a nice ring to it. Davids is a member of the Ho-Chunk Nation from Kansas. Haaland is a member of the Pueblo of Laguna from New Mexico. They joined a record number of Native women that ran for public office in 2018, according to Indian Country Today's Mark Trahant. To say their arrival in Congress is overdue is a harsh understatement.
As Phil Deloria, the first tenured professor of Native studies at Harvard and a member of the Dakota, told Splinter, they have come to Washington at a time when Native communities are under acute threat from the Trump administration. "There's what seems to be a kind of all-out assault on Native political sovereignty in the administrative realm right now," Deloria said.
Congress has desperately needed more Native voices, specifically Native women. Without them, the nation's most powerful legislative body will continue to misunderstand and mute the litany of issues that Indian Country faces. Some of the more headline-grabbing issues are tragic—scores of missing and murdered Native women, woefully underfunded health services, white parents continuing the long practice of snatching Indian children from the reservation. And some are more abstract, like the issue of climate change in the Southwestern tribes, or the sudden importance of non-voided tribal land agreements.

With such a wide array of issues to tackle, and with little support coming from the White House or the Department of the Interior, it's fortunate that a pair of Democrats as distinctive as the new Native congresswomen are the first to emerge. Haaland and Davids come from different generations, from different states, from different life experiences, from different tribes, from different views of what a government should look like. The steps they'll take to represent their people, let alone their own districts, are going to be just as unique as Indian Country itself.
The story of how Sharice Davids went from the MMA ring to law school to Congress seems, at first, like the American Dream come true.
And it is, in its own way. But what Davids' life journey reflects is the very issue being tackled by Indigenous leaders in academia, politics, and literature—that there is no single tale of hardships on the rez or in the inner city that encompasses all of what it means to have a Native experience. Like all tribal nations and people, Davids is not solely a product of the way of life experienced by her Ho-Chunk ancestors, but of what the Ho-Chunk Nation is today.
Davids was raised by a single mother who served in the Army, and work was in her daily routine from a young age. She went to a community college in Kansas while working a fast food gig at Sonic. This was also when she started practicing mixed martial arts—she'd been infatuated with the sport since childhood, but, as she told Splinter, growing up in a single-parent household with siblings meant that the money was never there, at least not for martial arts classes.
After Sonic, there was a stop as a delivery driver for a local wine company and a stint as a Marriott bartender—all side hustles meant to help her score an undergraduate degree at a public university. She eventually made her way to the University of New Mexico, for a program known as the Pre-Law Summer Institute, or PLSI. This would set her on a path to Congress.
Created in conjunction with the American Indian Law Center, PLSI is a program designed to help Natives who would otherwise struggle to get to law school. In a more general sense, it's a way for Natives to reach the echelons of American society long denied to the nation's true first people.
For Davids, that meant applying to Cornell Law, a move she said she wouldn't have made without the encouragement of the PLSI program director.
"I was certainly nervous about going out to Cornell," Davids told Splinter in a phone interview in December. "I hadn't visited the school, frankly didn't think it was all that likely that I'd be accepted, but was glad that someone encouraged me to do that. I was nervous about going out there partly because I felt very much like a Midwesterner and the idea of going to the East Coast, I didn't know what to expect."

If you're a Native, one of the least represented groups in the American college system, attending a prestigious university can be a double-edged sword. People work their way into schools that would make anyone jealous, but all of the usual racist nonsense about affirmative action is often waiting for them. There also isn't much a safety net for Native or rural students that provides them a knowledge of just what the hell you'll be doing when you get there. And it's these people, the Natives that can do the work but need the logistical preparation, that PSLI exists to serve.
Thanks to PSLI, and also to Akwe:kon, a Native student group at Cornell Law, Davids was not overwhelmed in her initial year in Ithaca. Instead, she found herself excited. For the first time in her life, there were no roller blades, no delivery truck, no bar to schedule her life and her studies around. She was just a law student, one with a group of fellow Natives surrounding her, reminding her that she wasn't alone.
"I was so focused on trying to do as good a job as possible at law school that there wasn't a ton of time for social outings," she told Splinter. "I went to class, I studied, I went to my martial arts training. So when I had free time and went to social events, I went to Akwe:kon."
Davids took her new legal expertise to the Pine Ridge reservation in South Dakota, working on issues of economic development for the Oglala tribe. This led to her being one of 16 people chosen to work as White House fellows in President Barack Obama's final year in office, where she assisted in the transition between the Obama and Trump administrations. She says that it was that work that pressed the fast-forward button on her decision to run for office.
And so came the 2018 campaign for the Third District in Kansas, one in which Davids brushed off being called a "radical socialist kickboxing lesbian" that "will be sent packing to the reservation" by a local Kansas GOP official to beat incumbent GOP representative Kevin Yoder and claim her seat in Congress. Now, Davids is tasked with working against the man she helped prep the White House for.
Joining her in that fight is Deb Haaland.
Deb Haaland has spent nearly her entire political life fighting for people like the Native working-class citizens of the Laguna Pueblo reservation right off Route 66.
Like Davids, though, Haaland, 58, is going to D.C. to represent a congressional district—New Mexico's First—that is made up by a majority of white citizens. Natives constitute just 3.5 percent of the district's population. But Haaland says that the solutions to the problems in her district—which includes three-fourths of Albuquerque and the state capital, Santa Fe—will help both Natives and non-Natives alike.
"I happen to believe that a lot of the issues that tribes [face] are the same ones my district [faces]," Haaland told Splinter over the phone in December. "Everybody needs healthcare. Everybody needs a quality public education system. Everybody needs to know that we're fighting climate change and moving toward a renewable energy economy. Those are things that I think coincide with my values as a Native woman and that I believe a lot of tribes are looking to have as well."
Haaland is 20 years older than Davids, and she's a member of a generation of Native Americans that is much closer to some of the atrocities that are only just now beginning to be taught in American schools. Whereas Davids did not grow up or live on her tribal reservation, Haaland lived on Laguna land when she was younger. Born in 1960, the era in which Haaland came up and the stories she heard from her elders during her childhood were marked by a far different, far more vicious Native experience.
Haaland's grandmother was among the Native children snatched up by the United States government and forced into one of the infamous assimilation academies that existed and thrived well into the 20th century. Haaland acknowledged that older Natives tend to look at the United States government with a wary eye. Haaland, however, is an exception to this rule.

Part of this stems from the fact that the American government wasn't seen solely as a menacing force in the Haaland household, but also as an employer. Haaland's mother served in the Navy while her father was a veteran of the Marines—together, the pair logged more than 55 years in the armed forces. This meant that instead of growing up on the Laguna Pueblo reservation her entire life, Haaland saw the country through the eyes of a pair of service members; it also meant that she attended 13 different public schools before graduating high school in Albuquerque.
Haaland's career path took her to the University of New Mexico, where she'd earn her undergraduate and law degrees before turning to a career of field organizing, trying to help New Mexican tribes such as the Laguna make their local governments work for them instead of against them.
After making inroads with the Democratic Party in New Mexico, Haaland entered the political fray in 2004, when she lent a hand to John Kerry during his presidential campaign. She followed this up four years later by canvassing Native communities for Barack Obama. For both campaigns, she put to use the many connections she'd made over two decades, with the end goal of getting Native voters—a long dormant, disaffected voting bloc with low turnout in New Mexico—to the polls. While Kerry narrowly lost the state by fewer than 6,000 voters, Obama cruised to a 15-point victory, with all 21 tribes in New Mexico throwing their weight behind the Democrat. She eventually became the head of the New Mexico Democratic Party before being elected to Congress last year.
Haaland told Splinter that she understood why many Natives didn't trust American authorities, whether the government-run Indian Health Service or American researchers or the federal government as a whole. But she said that was exactly why she got into politics.
"You either get involved and work to change it, or you don't do anything and accept that the U.S. government is the way it is," Haaland said. "I happen to believe that I have a responsibility to ensure that I'm electing people who care about my community, who know about Native American tribes, who understand that we have the trust relationship between the government and Indian tribes, so those are the candidates I'm always going to support. Anybody could sit back and say they distrust the government and not do anything. But I don't think that helps the situation."

Because Haaland stands at the forefront of her generation when it comes to political service, she said she wasn't sure that she could name any leader that she models herself after. Instead, she plans to have an open-door policy for tribes. Only by fixing the government from the inside, she said, can Native Americans find the justice and representation they've long been denied.

"We need to insert ourselves any way we can and certainly running for office is one way you can have a seat at the decision-making table," Haaland said. "So I encourage more Native folks to get involved. You might know Ruth Anna Buffalo from North Dakota—she ran for a [state] House seat and beat the guy that penned the legislation that disenfranchised her people. What poetic justice is that? That's what we need more of."
Pointing out Haaland and Davids' differences is crucial to moving forward, because in mainstream coverage (and in this very piece) they are inseparable history-makers and glass-ceiling-breakers.
The attention itself isn't a negative thing—if anything, as pointed out by Yes! writer Jenni Monet, the power of the history they made has been under-covered. But the classification of Natives and tribes as groups all facing the same issues is one that would have very easily been attached to a sole Native congresswoman. As Deloria pointed out, having the first two Native women in Congress enter simultaneously make it so that neither Davids or Haaland have to carry the weight on their own.
"The one person doesn't have to represent everyone [in Indian Country], which is impossible," Deloria said. "And the one person doesn't have to become the focal point of everybody's sense of, 'Oh that's what it is. Now I understand Native America because her positions are Indian Country's positions writ large.'"
Both made it clear that while Indian Country's top problems would be on both of their agendas, each had a different approach and schedule when it came to solving them.

As has been detailed on Splinter before, Davids is not a firebrand progressive. She is not the Native version of Alexandria Ocasio-Cortez, or Bernie Sanders. Throughout her campaign against Yoder, Davids hewed to the middle. The one time she dared espouse something that could be considered even close to a DSA talking point—appearing to call for the abolishment of ICE during a podcast interview in June—she quickly backtracked, contending to the editorial board of the largest paper in Kansas City that she "was just not being very articulate."

This largely tracks when Davids speaks about her legislative goals as a newly elected Congresswoman. When I asked about her plans for the upcoming session, Davids initially pointed to H.R. 1, the very first bill offered by the Democrats aiming to tackle the issues of voter suppression and voting rights, before bringing up "access to healthcare," the student debt crisis, and "education in general" as topics that her office will tackle.
"To start off with as a provisional thing, addressing the issues around money in politics and the issues around disenfranchisement in some places and difficulties of people being able to access the ballot—those are foundational things I think will make the rest of the work that we want to get done much more effective," Davids said.
Haaland sits a good bit further to the left of her new colleague. (She staunchly supports Medicare for All, for instance, whereas Davids has called it "a goal and a good slogan.") Although issues like healthcare and sovereignty weigh heavy on her mind, climate change is at the top of her agenda. (I highly recommend reading this profile by our sister site Earther on her work with the Pueblo of Laguna to curb harmful drilling practices.)

"I campaigned very hard on climate change and renewable energy," Haaland told Splinter. "New Mexico has over 310 days of sun per year, so that's something my district wants, so anything I can do to push that issue forward, I'm going to do. That's actually the No. 1 issue. The other issue is healthcare. Every person living in this country needs reliable healthcare."
Also on Haaland's mind is the ongoing crisis of murdered and missing Indigenous women. She was in Washington during a Committee on Indian Affairs hearing on Dec. 12, when then-Sen. Heidi Heitkamp and Sen. Jon Tester tore into the FBI and the Bureau of Indian Affairs for failing to offer a single reasonable explanation for the thousands of unsolved cases across the country. While they shouted from the dais, she stared daggers at the FBI assistant director from the first row.
Haaland cited the fact that the slow response time from state-operated law enforcement pairs with an inability on the part of the FBI to cohesively produce investigations that turn up the missing Native women.

"When this has been plaguing Native women for decades and it hasn't come to the attention of mainstream society, it's because there aren't enough high-profile Native women out there bringing it to the attention of the media," Haaland said. "So every chance I've gotten over the last few months, I've talked about that issue. I'm going to work on it when I get to Congress and hope that we can absolutely find a path to legislation that will once and for all work toward helping those women."
Hours after Haaland and Davids had their moment on the House floor, the real celebration began.
At a D.C. Hyatt reception, a room packed full of Natives and allies celebrated what had long been thought impossible. Actor Mark Ruffalo, an avid supporter of the South Dakota tribes during the Standing Rock protests, was there, banging the drum along with the Ho-Chunk Nation Drum Group. There were speeches by Oklahoma Republican Reps. Markwayne Mullin and Tom Cole, who before the elections of Haaland and Davids, were the only two Native American members of Congress. As featured in a highlight video of the night's events, Sen. Elizabeth Warren swung by to congratulate the pair. (Haaland has been openly supportive of Warren's decision to publish the findings of her DNA test.)
Haaland and Davids finally gave their speeches, not just to a room full of donors or lobbyists, though they were certainly there, but also to a room of Natives who were just happy to be themselves. During her speech, Haaland exclaimed from the podium, "Today is a great day to be Indigenous."
Both women are aware that such celebratory moods can be fleeting. But there are victories wider than their elections happening in Indian Country. Unlike American youth at large, Native Americans between the ages of 18–29 were the most motivated age group of Native voters in the 2018 midterms, according to a 600-person survey conducted by a group out of the University of New Mexico, with 59 percent of young Native respondents saying they pushed friends and family to register and vote. In the face of repeated efforts to suppress the Native vote, it's a silver lining worth boasting about.
Whether their ability to grab the attention of Native crowds and their home districts will translate to successfully turning Native issues into items the media pays attention to or legislative action is yet to be seen. But while Haaland and Davids open their doors to Natives across America, they cannot have the work long ignored by their white colleagues foisted upon themselves alone. Their time in D.C. is just beginning, and Indian Country has four centuries' worth of catchup to play.