An Indiana woman who was once the youngest death row inmate in the U.S. and whose case attracted international attention committed suicide on Tuesday, less than two years after she was released.
Paula Cooper, 45, was found dead in her Indianapolis home. Her cause of death was a self-inflicted gunshot, the Marion County Coroner's Office confirmed to Fusion. Indianapolis Metropolitan Police spokesperson Kendale Adams confirmed that a suicide note was found but declined to discuss what the note contained.
Cooper was sentenced to death in 1986 at age 16 after pleading guilty to the murder of a 78-year-old Bible studies teacher in Gary, Ind. Her case attracted international attention and helped spark reform of juvenile death penalty policies. Her death sentence was commuted to 60 years in 1989, and she was released on parole in June 2013 after serving 27 years.
Most remember Cooper for her gruesome crime, but in the eyes of the people she spent her last two years with, Cooper had turned her life around. She was working to help indigent defendants as a legal assistant in the office of an Indianapolis public defense organization—a chapter of her life that's largely been ignored by the media following her death.
It's a transformation, her colleagues say, that shows how a criminal justice system that has sentenced thousands of minors to life in prison without parole still robs kids of a second chance today.
G/O Media may get a commission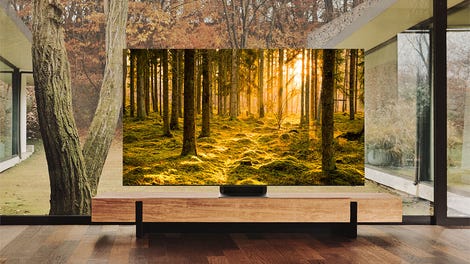 Up to 40% off
Samsung Smart TVs
"It's a very unusual ending to a tragic case," attorney Jack Crawford, who prosecuted Cooper's case in 1985, told Fusion. "A lot of people and Paula spent 27 years trying to save her life and get her out of prison. She's out 23 months and she kills herself. The irony is just difficult to grasp."
"People do change"
Since Cooper's case, no one else in the U.S. has been sentenced to die for a crime committed at her age. But around the country, kids are still put in jail with little or no opportunity to redeem themselves or grow up. Almost 3,000 minors in the U.S. have been sentenced to life in prison without the possibility of parole, according to the Equal Justice Initiative, an advocacy group.
Incarcerated minors face extreme mental health issues, research shows. Children and teens kept in adult jails are 19 times more likely to die by suicide than those out of jail and 36 times more likely than those housed in juvenile facilities, according to research from the Campaign for Youth Justice, another nonprofit.
In a 2012 interview with a local newspaper, about a year before she would be released, Cooper said she was grateful for a second chance at life.
"My time is coming and, you know, I just hope that people give me a chance out there," she said. "That's it—because people do change."
"She felt worthless"
Prosecutors said Cooper, who was 15 at the time of her crime, was the ringleader of a group of four girls who killed Ruth Pelke in a 1985 home robbery. Cooper repeatedly stabbed 78-year-old Ruth Pelke with a 12-inch knife, demanding money.
Pelke, who had invited the girls into her home for a bible studies class, died while reciting the Lord's Prayer, according to statements from the other girls.
While the other three girls — Denise Thomas, 14 at the time of the murder; Karen Corder, 16; and April Beverly, 15 — received prison sentences of 25 to 60 years, prosecutors called for the death penalty for Cooper. The judge in the case had previously stated his opposition to capital punishment, so "we thought there was no way it was going to happen," Crawford said. "But he did it."
The case immediately made international news: The Indiana Supreme Court received 2 million petitions to take Cooper off death row, and the UN received 1 million petitions, according to the Indiana Historical Society. Pope John Paul II personally wrote to the Indiana governor asking him to commute her death sentence.
"I had an emissary from the Vatican at my door maybe a month afterwards," Crawford said.
On death row, Cooper felt suicidal, said Monica Foster, who was then a young defense attorney and worked on Cooper's appeals.
"When I first went to see her, nobody had explained to her the appeal process, that they weren't just going to bring her out of her cell and kill her," Foster told Fusion. "She felt worthless."
In 1988, the U.S. Supreme Court found sentencing people to death for crimes they committed while under the age of 16 unconstitutional. The Indiana Supreme Court revoked Cooper's death sentence, giving her 60 years instead.
While a separate Oklahoma case prompted the U.S. Supreme Court decision, Cooper's sentencing—and the fact she was a woman—brought more attention to juvenile executions in the U.S., especially from abroad.
"Cases like Paula Cooper's were responsible for some of the early challenges to the practice of executing teenagers," Robert Dunham, the executive director of the Death Penalty Information Center, a non-profit that studies capital punishment, told Fusion. "The fact that a girl so young had been capitally prosecuted and sentenced to death placed a spotlight on the practice."
The U.S. Supreme Court raised the minimum execution age to 18 in 2005.
A "ferocious advocate"
During her years in prison, Cooper connected with Pelke's grandson, Bill Pelke. While he originally supported the death penalty for his grandmother's killer, Pelke said he changed his mind through prayer.
"I became convinced beyond a shadow of a doubt that my grandmother would be appalled that this girl was on death row," Pelke told Fusion.
The two began corresponding while Cooper was on death row, writing letters back and forth every 10 days at one point, Pelke said. He helped advocate for her release, and founded a charity promoting forgiveness. The two met 14 times while she was in jail.
About two years before Cooper was released, "she told me she was scared" of getting out, Peske said. "She said, 'I've never written a check, opened a bank account, gotten an apartment, applied for a job. All this stuff really scares me.'"
Many ex-cons are unprepared for the real world: about 60 to 75 percent aren't able to find a job within a year after their release, according to the National Institute of Justice.
"Think of how the world has changed," Crawford pointed out. "All of a sudden she's thrust into the world of 2015 from the world of 1985. It's like being on Mars for 30 years."
But after she was released, Cooper, who had received her GED and a Bachelor's while in prison, managed to turn her life around. She first worked at a burger joint, and was promoted to a manager position. Since last September, she worked with Foster, her old lawyer, as a legal assistant at the Indiana Federal Community Defenders, which defends federal defendants in Indianapolis and the Indiana Southern District.
According to Foster, who is now the district's chief federal defender, Cooper was a woman transformed. As a legal assistant, she was a "ferocious advocate" for the organization's clients and a positive presence in the office. She talked personally to clients about her experience and helped them understand what they were facing.

In the weeks leading up to Cooper's death, her colleagues didn't notice any changes in her behavior or mood, Foster said.
"She was joyous," Foster said, choking back tears. "On Friday, we were singing and dancing in the office, 'Uptown Funk' we were dancing to…There was not a thing that caused us to believe there was anything wrong."
Cooper is survived by a mother and a sister.
"We're grieving," Rhonda Labroi, Cooper's sister, told Fusion. "This is a very difficult time right now."
Casey Tolan is a National News Reporter for Fusion based in New York City.