Welcome to WHAT NOW, a morning round-up of the news/fresh horrors that await you today.

The police officer assigned to Marjory Stoneman Douglas High School resigned on Thursday after the local sheriff said video showed the officer standing outside the school and doing nothing to respond as the gunman killed 17 people.
Broward County Sheriff Scott Israel said the school resource officer, Scot Peterson, stationed himself outside the building where most of the killing occurred but waited there for "upwards of four minutes." All told, the mass shooting only lasted around six minutes, he said.
Israel went on to say the officer should have "went in. Addressed the killer. Killed the killer."
"I'm devastated. Sick to my stomach. There are no words," the sheriff said, according to CNN. "These families lost their children. We lost coaches. I've been to the funerals, I've been to the homes. ... I've been to the vigils. It's just—there are no words."
G/O Media may get a commission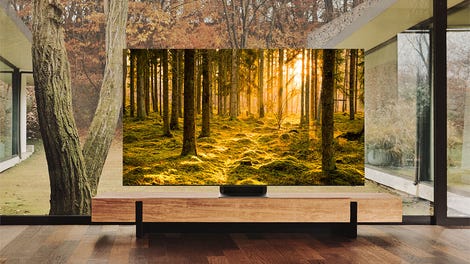 Up to 40% off
Samsung Smart TVs
Although Peterson was first suspended without pay pending an investigation, Israel said he chose to resign. He also confirmed that two other officers are under investigation for their handling of potential warnings the department received about Cruz, including a call from November where the tipster warned the teen "could be a school shooter in the making," the Sun-Sentinel reported.
WHAT ELSE?
Samantha Fuentes, who was shot in both legs during the Parkland, FL, high school shooting that left 17 dead, told The New York Times that her call with the president left her completely cold, telling the paper:
"He said he heard that I was a big fan of his, and then he said, 'I'm a big fan of yours too.' I'm pretty sure he made that up," she said in an interview after being discharged from the hospital. "Talking to the president, I've never been so unimpressed by a person in my life. He didn't make me feel better in the slightest."

Ms. Fuentes, who was left with a piece of shrapnel lodged behind her right eye, said Mr. Trump had called the gunman a "sick puppy" and said "'oh boy, oh boy, oh boy,' like, seven times."
Sheldon Adelson, the billionaire funder of right-wing causes, is offering to pay for the new U.S. embassy in Jerusalem and the Trump administration is considering it, the Associated Press reported. The move from Tel Aviv, which the administration announced late last year, is expected to cost hundreds of millions of dollars.
Defense Secretary James Mattis is expected to advise Trump to allow transgender troops to stay in the military, according to The Washington Post.