In November last year, 46-year-old Sherrell Faulkner was found with critical injuries next to a dumpster in Charlotte, North Carolina.

Last Tuesday, Faulkner died of her injuries, making her the 11th transgender person—so far all women of color—we know to have died from violence in 2017.

"Our hearts are heavy with the news of the death of Sherrell Faulkner. North Carolina's LGBTQ community and everyone at Equality NC's thoughts are with the victim of this tragic violence," Ames Simmons, Director of Transgender Policy at Equality North Carolina, said in a statement. "We are facing a national epidemic of violence with eleven trans people, many of them transgender people of color, murdered in 2017. We are asking leaders and community members at every level to consider both the overt and underlying reasons for these killings. "

Faulkner's family started a GoFundMe to pay for her funeral. A friend wrote on the page that she "was the light of the party.... Loved with a whole heart and genuinely truly will be missed..."
The Charlotte-Mecklenburg Police Department is investigating her death as a homicide, but did not respond to a request for comment on whether they're treating it as a hate crime.
G/O Media may get a commission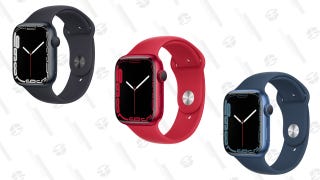 Up To $45 Off
Apple Watch Series 7
Some local news reports continue to misgender and dead name Faulkner, meaning they're using her birth name and assigned gender instead of the name and gender she identified with. The common media and police practice of misgendering and dead naming trans people can lead to an inadequate accounting of the true extent of violence experienced by transgender Americans.
North Carolina is among 16 states that don't have specific protections for LGBTQ people in their hate crimes laws.
The number of trans and gender non-conforming people being reported killed has escalated in the past few years: according to the National Coalition of Anti-Violence Programs, 23 trans people were reported killed in 2016 and 16 were reported killed in 2015. The majority of those killed in each of those years were trans women of color. So far this year, all 11 victims reported killed have been trans woman of color.