"The idea that fake news on Facebook…influenced the election in any way is a pretty crazy idea," said Facebook CEO Mark Zuckerberg at a conference Thursday night. "There have been hoaxes on the internet, there were hoaxes before… We do our best to make it so that people can report that, and as I said before, we can show people the most meaningful content we can."
The very next morning, a hoax involving the social network's founder was going viral. A screenshot of a private message allegedly written by Zuckerberg had him promising to ban Donald Trump from Facebook if enough users supported the idea.
The screenshot had been shared by a British teenager and as of this writing, had been shared on Facebook over 14,000 times, with 32,000 comments and 117,000 reactions.
Callan Brown, an 18-year-old from the coastal city of Brighton, England, posted the photo. In his alleged exchange with Facebook, Brown asks how many likes it'd take to remove Trump from Facebook. "Zuckerberg" responds "that is a pretty strong request" before offering up the numbers: 500,000 likes and 20,000 shares.
G/O Media may get a commission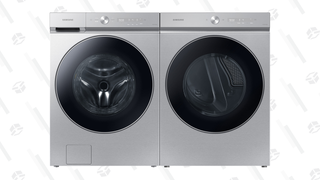 Get $500 back in credit
Last Chance: Samsung Bespoke AI Washer and Dryer Preorder
Brown was candid about the hoax when I contacted him. To create the fake message, he created a new Facebook account and changed its profile picture to one of Zuckerberg, and then edited in Zuck's profile information.
"At first it was to see how many people would believe it. But it is also a great way to bring a lot of people to a page," he told me via Facebook message. "I have no interest in money I just want to have fun. And when it comes to misleading people, they either believe it and nothing happens so they get on with their life, or they don't."
Brown, whose personal page now has a little over 48,000 followers, said he made no money off the viral post and just enjoys seeing how many people he can get to visit his page.
This is the second time in the past few days that Brown has tried this particular trick. On Monday, just before election day, he posted an almost identical post from the secondary account he uses, that time pretending to ask Trump how many likes and shares it'd take for him to drop out of the race:
"At first I worried quite a bit about the serious amount of hate it brings, I mean Trump has a huge following, Brown explained. "Whether they believe it's real or not they are not going to be happy."
Brown's fake posts are, of course, a bit different from the lucrative and growing industry that is generating and posting fake political news on Facebook, some of which is generated by teens in the Balkans trying to make some money. But, even though those pages are more monetized than Brown's, they share a common currency: eyeballs.
"Trump is one of the most hated people right now, he's perfect to use," Brown answered when I asked about his choice of subjects. "Combine that with the CEO of Facebook himself saying he will help. It is going to get a lot of attention."
Since firing its entire trending team earlier this year, Facebook has repeatedly unwittingly promoted false information. The head of Facebook's News Feed team, Adam Mosseri, said in September that the company needed to fix the problem. After the election, Facebook has become a scapegoat for people who feel anyone who voted for Trump must have been fed false information.
In response to that, at the conference Thursday night, Zuckerberg said, ""I think there is a certain profound lack of empathy in asserting that the only reason why someone could have voted the way they did is because they saw some fake news."
It's unclear how many people will actually be taken in by Brown's hoax, but it is already clear that the post will circulate like crazy and that Facebook doesn't have a mechanism for catching something like this. The question now is whether it should.
"I really haven't thought about the end result," Brown explained to me. "Just seeing so many people coming together on a post I made in a couple minutes. It doesn't last long but it gives me a small moment of satisfaction."
Ethan Chiel is a reporter for Fusion, writing mostly about the internet and technology. You can (and should) email him at ethan.chiel@fusion.net