Towards the end of Apple's latest round of product announcements in San Francisco on Wednesday, Apple CEO Tim Cook invited singer-songwriter Sia up on stage to close out the event with a musical performance.
Rather than opening up with one of her better known songs like "Titanium" or "Cheap Thrills," the Australian singer picked her newest single, "The Greatest," from her upcoming album We Are Your Children, to entertain the audience of Apple employees and tech bloggers who had gathered to celebrate cellphones and watches.
None of that would have been much of a big deal were it not for the fact that The Greatest is widely considered to be a tribute to the 49 victims of the massacre at the Pulse nightclub in Orlando. In the music video for the song, a group of young children clad in Sia's signature wigs dance gracefully through a makeshift nightclub riddled with bullet holes before all collapsing into a heap on the ground as if they were dead.
As a piece of art meant to capture Sia's personal feelings about the Pulse shootings, "The Greatest" is powerful both lyrically and visually, but there was something decidedly off about Sia bringing the song to the Apple event.
At almost any other venue, it would have made a lot more sense, but the juxtaposition of a song meant to mourn the vicious murder of queer people of color with an hour-and-a-half-long announcement of new smartwatches and wireless headphones felt tone-deaf at best.
G/O Media may get a commission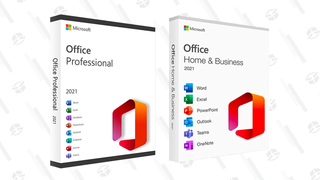 89% off
Microsoft Office Professional 2021 Lifetime License
The performance also comes at an interesting time for Tim Cook who took over for Steve Jobs as Apple's CEO back in 2011.
Although Cook came out as a gay man in 2014, he was slow and careful about opening up about his personal politics regarding the current state of LGBTQ affairs in the US and even more measured about publicly commenting on Apple's position on things like supporting same-sex marriage. In the immediate aftermath of the Orlando shooting, Cook shared his condolences for the families of the victims, but stopped short of actually referring to them as queer people, instead choosing to call them members of the "Apple community."
"It was a senseless, unconscionable act of terrorism and hate, aimed at dividing and destroying," Cook said. "The Apple community is made up of people from all around the world, from all different backgrounds, and all different points of view."
As Engadget's Christopher Trout accurately pointed out, Cook's statements came across as being less of a legitimate moment of mourning and more like an opportunity for Apple to capitalize on a devastating attack on queer lives.
Given his status as one of the most powerful gay men in the world with an immeasurably large platform to broadcast messages from, Tim Cook is in a unique position to comment on LGBTQ issues. It's questionable whether or not this was the appropriate use of that platform.
Sia would not be the first artist to be invited to an Apple event to debut new music to the world with the help of Apple's branding. U2 infamously pulled a similar stunt back in 2014 with its album Songs Of Innocence, which was forced onto people's iOS devices without their permission.
Sia's camp has yet to say whether or not any profits from the sale of "The Greatest" or We Are Your Children will go towards the Orlando survivors or other LGBTQ-focused causes.