About two weeks ago, Sam Simon, a co-creator of "The Simpsons," put down $7,800 to buy a bull headed for death at an Irish slaughterhouse. The previous owner wanted to get rid of "Benjy," as the bull was known, because he was suspected of being gay: the 5,000-pound farm animal had failed to breed with any cows.
Simon said he made the weighty purchase because animal rights is an issue close to his heart.
"All animals have a dire destiny in the meat trade, but to kill this bull because he's gay would've been a double tragedy," Simon said in a statement shortly after the purchase that would send Benjy to an animal sanctuary in England.
But there's another reason: Simon, 59, is in a rush to spend his multi-million-dollar fortune while he still can. He was diagnosed with terminal colon cancer in 2012 and given three to six months to live. He has two ex-wives and no heirs. His family doesn't need financial assistance. So he's giving away millions and million of dollars.
Some who follow the philanthropy world closely say they've never seen anyone try to unload a fortune quite this fast.
G/O Media may get a commission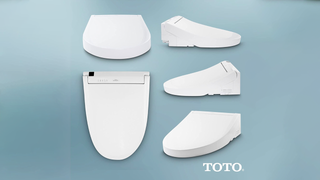 44% off
Toto Washlet Electronic Bidet Toilet Seat
"I'm not driven by long-term decisions that someone would make if they're trying to have as much money as they can when they're 90 years old," Simon said during an interview for an upcoming Fusion documentary documenting his life as he fights cancer.
In addition to his work on "The Simpsons," Simon made his fortune writing and producing for television shows including "Cheers," "Taxi," and "The Drew Carey Show." Today, he says he's not even sure of how much money he's donated to the causes he loves.
Earlier this year he bought a farm for $50,000 so that he could rescue chinchillas from becoming fur coats. He then gave the San Diego Humane Society a $100,000 donation so they could take care of the chinchillas. He also purchased 17 grizzly bears for an undisclosed amount so that he could take them out of a roadside attraction and release them to a bear sanctuary.
His foundation, the Sam Simon Foundation, also provides vegan meals to 400 families every day in Los Angeles.
"I have a limited time on Earth to do what I can do until I'm gone," said Simon. "You are a little more aware of it when you're sick."
Simon is in good spirits. He visited the doctor last week and he got some good news.
"Scans were very good," Simon told his 55,000 followers on Twitter. "Some tumors are shrinking!"