Sinclair Broadcast Group's response to the controversy over its march across the local TV landscape has mostly confirmed peoples' fears about the company.

Sure, Sinclair executives have defended its infamous "journalistic responsibility messages"—mashed up in a viral Deadspin video last week—as an ethical promise made from journalists to viewers. But on Tuesday it launched a three-pronged counterattack against a national media and public increasingly wary of its reach.
First, Sinclair Executive Chairman David Smith told the Guardian in a rare interview that "everything that we've done is absolutely unassailable under any circumstances." Then, a memo sent from CEO Chris Ripley to staff on Tuesday—and reported by Politico Tuesday afternoon—described the explosion of coverage of Sinclair last week as "politically motivated attacks." And just hours later, Sinclair posted an ominously scored YouTube video that compared its must-run warning about "irresponsible, one sided news stories plaguing our country" to those commonly seen on CNN.
"Does CNN really think a warning about 'fake news' is Trump's rhetoric?" it reads between clips of CNN media reporter Brian Stelter. "Fake News is a problem. Everyone knows it. Calling out Sinclair for calling out 'Fake News' is dishonest and reprehensible."

Stelter reported that Sinclair would run its media-bashing promos last month, and he's since covered the internal fallout from last week's uproar. CNN, it should also be noted, is a favorite target of Donald Trump and his right-wing media cronies.
G/O Media may get a commission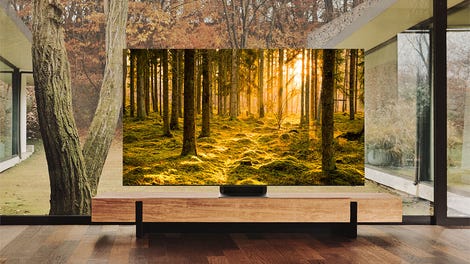 Up to 40% off
Samsung Smart TVs
How did Sinclair—a company attempting to quell fears that it's using a far-reaching network of media outlets to push political messaging—promote its new attack ad on CNN? It put a link to the 4-minute video at the very top of many of its stations' sites.
In Minneapolis and St. Paul.:

In Baltimore, Sinclair's home market:
In Las Vegas:
In Cincinnati:

In Pittsburgh:
In Portland:
In Milwaukee:

I could go on. Sinclair owns or operates nearly 200 local TV stations and is trying to buy more through its attempted acquisition of Tribune Media. Now, it's using its massive platform to hit one of Trump's favorite punching bags, in the process magnifying the effects of media consolidation under a politically driven owner.
Stelter responded to the clip on Twitter Tuesday, pointing out the obvious:
The other difference—and one that was conspicuously absent from Sinclair's YouTube video—is that the company mandates its network not only run "journalistic responsibility messages," but also right-wing, nationally focused political commentary masquerading behind local media brands. This pattern is far more insidious and scandalous than an isolated warning to avoid false news stories.
Perhaps Sinclair required its stations to give prominent treatment to its YouTube video Tuesday in order to convince local viewers that CNN's reporting on the station is untrustworthy. But it's also possible that the company is attempting to send a message to political ad buyers, Republican legislators, federal regulators, and Trump himself. It's deflecting its critics by attacking CNN, a strategy with which all of us are familiar.
I have reached out to Sinclair Vice President of News Scott Livingston for comment and will update if I hear back.
If you work at a Sinclair TV station that linked to this YouTube clip, I'd love to learn why: david.uberti@splinternews.com.