As the issue of Sinclair Broadcast Group's "must-run" segments has ballooned into a national controversy, journalists across the company's sprawling network of nearly 200 stations are distancing themselves from their conservative parent.
While a small number of stations and employees have made their resistance to Sinclair's top-down mandates public, many more have tried to sound the alarm anonymously to outside media in recent days. A sampling of both:

The San Antonio Express-News reports that WOAI anchor Delaine Mathieu addressed criticism of Sinclair's media-bashing promos on Facebook this week. "Trust me, this was awful," she wrote. "We had several closed-door meetings and even had to re-record our version because we looked so mortified in the first cut."
At Vox, "journalists at one of the 193 local television stations owned by Sinclair Broadcast Group" wrote an anonymous column chiding the "must-run" segments. "We are writing this essay because we're disturbed by the editorial direction our leadership is taking," they said, "and we want people to know that many of us at Sinclair reject what our company is doing."
Three Sinclair-owned stations in Idaho have declined to air their mothership's "journalistic responsibility promotional campaign," The Spokesman-Review reports. Fox 47 in Madison, Wisc., tweeted that it similarly declined to run the segment last weekend. "Rather, we stayed true to our commitment to provide our Madison area viewers local news, weather and sports of interest to them," it said.
A producer at a Sinclair-owned station in Nebraska resigned in protest of what he called the company's "obvious bias."
Staff at three different Sinclair stations told The Daily Beast "that in the days since the video was published, staffers have waited for an apology from their parent company, but have received nothing."
Speaking out carries considerable risk, particularly in local news. Media jobs are scarce as is, and many markets have a limited number of outlets. TV journalists are also often bound by strict contracts that may include non-compete clauses or financial penalties for quitting. A copy of a Sinclair contract viewed by Bloomberg this week included a "liquidated damages clause" that could demand up to 40% of a worker's annual compensation if they left before the term was up. In Orlando, a former staffer of local station WPEC told Orlando Weekly that Sinclair sued him for damages after he left the outlet.
Former employees of Sinclair-owned stations have also condemned the company's political slant and empathized with current staffers who find themselves in a tight spot. The controversy has reached such a fever pitch, BuzzFeed reports, that Fox News employees have compared themselves favorably to their counterparts in local TV. I guess everything is relative.
G/O Media may get a commission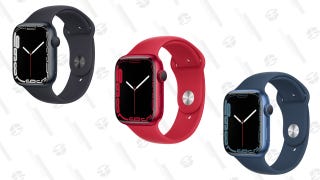 Up To $45 Off
Apple Watch Series 7
Update, 3:39 p.m.: This post has been updated with Fox 47's pushback against Sinclair's must-run segment.
If you work at Sinclair or notice any changes at your local Sinclair-owned station, email me: david.uberti@splinternews.com.