It's my sad duty to inform you that the media moguls at Sinclair Broadcast Group are very much back on their bullshit.

In response to Sinclair's mandate that dozens of local media outlets read the same word-for-word script decrying "fake stories"—first exposed by Splinter's sister site Deadspin—media watchdog group Allied Progress approached the company with a six-figure ad buy for a 30 second anti-Sinclair ad to be aired on Sinclair stations themselves.
Surprisingly, the company actually agreed to run the commercial over the weekend...but only after sandwiching it between two very huffy ads of its own, denouncing Allied's message as "misleading" and "hysteria and hype." At the same time, Sinclair gave itself a congratulatory pat on the back for presenting "both sides of issues."
Here's what it looked like:
"The misleading ad you just saw focused on a brief promotional message that simply said we're a source for truthful news," a Sinclair announcer somberly intones. "It ignored thousands of hours of local news we produce each year to keep you informed. The ad was purchased by a group known for its liberal bias, and we hope you won't buy into the hysteria and hype."
G/O Media may get a commission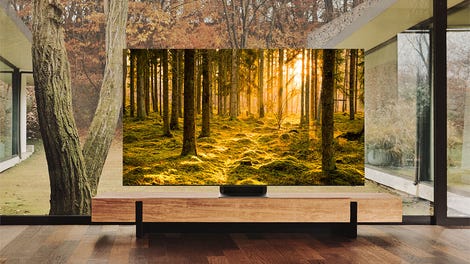 Up to 40% off
Samsung Smart TVs
Responding to Sinclair's "um, actually" move, Allied Progress executive director Karl Frisch said:
When we bought airtime with Sinclair we didn't think they'd respond by admitting they actively push a partisan agenda. But that's essentially what they've done by attacking Allied Progress for a supposed 'liberal bias' while simultaneously claiming they want viewers to hear the other side in their response.
Frisch also explained that in most instances, companies notify an ad-purchaser if they plan to address the content of an ad directly.
"That did not happen here," Frisch claimed, calling it "hardly surprising coming from a company that doesn't even subscribe to the basic pillars of independent journalistic integrity."
According to Allied Progress, the ads ran on four stations over the weekend: Washington DC's WJLA (ABC News), Des Moines' KDSM (FOX News), Seattle's KOMO (ABC News), and WBFF (FOX News) in Baltimore.