It's one thing to be a fan of "Game of Thrones," the TV series, or of the George R.R. Martin-penned book series from whence it came. But it's another still to be able to immerse yourself in the world, and slash and connive your own way through the land of Westeros. Enter "Game of Thrones: A Telltale Game Series," a six-part offering from Telltale Games that lets you do just that.
The first episode, "Iron From Ice," is out now, and it shares much in common with Telltale's other episodic, narrative-driven games, like "Tales from the Borderlands," "The Wolf Among Us," and "The Walking Dead" (as in, that "The Walking Dead"). You play as five different members of House Forrester, a smaller house from the North that has ties to the Starks and is caught in the middle of the war for the Iron Throne. As is also typical of Telltale Games titles, the decisions you make as each member of House Forrester will create lasting consequences for other members of the family as well as the world at large.
Both book readers and show fans will find something to sink their teeth into with the game. The option to play as different members of House Forrester calls to mind author George R.R. Martin's presentation of his "Song of Ice and Fire" books through different characters' point of view.
G/O Media may get a commission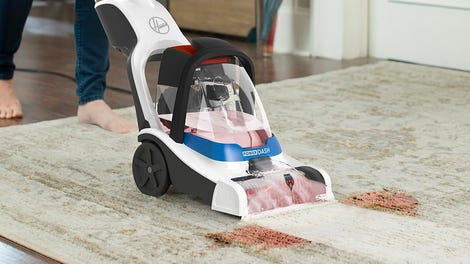 26% Off
Hoover PowerDash Pet Compact Carpet Cleaner
Make no mistake, however, for fans of the TV show, this is a dream. The series has you interact with familiar characters as voiced by many of their HBO equivalents. Natalie Dormer, Peter Dinklage, and Iwan Rheon reprise their roles, and Lena Headey's Cersei had me shaking in my boots. Her voice coupled with her stare is just as withering, even animated in a style resembling a pastel and watercolor painting brought to life. The skilled voice acting also extends to the Forresters, making you care about the family even when not directly confronted by the show's fan favorites.
The game also earns its place as a faithful show adaptation by earning its "mature" rating with significant bloodshed. "Iron from Ice" starts your player character in a camp just outside the Twins during a major character's wedding ceremony, placing the game right at the end of the HBO show's third season.
If you haven't watched the show, I recommend catching up or brushing up on the HBO series before traveling to Westeros yourself. The game (and, subsequently, this very review) starts you off with a pretty major spoiler.
Putting you so close to a major plot point is one of the game's strengths, and the camera work and music call back to these points to full effect, even if not showing exactly what happens within the castle walls. As soon as the camera panned to show the Freys' castle, I gasped, already knowing what was to come.
My heart sank as soon as the too-familiar strains of "The Rains of Castamere" played in the background. This effect, however, may be lost on more casual fans of the show. In that sense, the game reads more like a love letter to fans rather than a basic introduction.
Telltale Games feature more choose-your-own-adventure style gaming than, say, "Call of Duty." So, in this episode at least, the action is slim, more of a set-up for future episodes. You navigate your way through the story with dialogue choices and a few quick button-pushes to swing a sword in the middle of a battle.
A lot of the action that occurs is outside of a player's hands (literally), and this episode ends, just like the show, with a shock—at least, that's how my decisions played out. To borrow from Cersei, when you play the game of Game of Thrones, you win or … not, depending on what you choose. For this Game of Thrones fan, it was definitely a win.
"Iron from Ice" is out now for PC/Mac via Steam and other digital platforms, the Xbox Games Store for Xbox 360 and Xbox One, and on the PlayStation Network for PlayStation 4. The series will also be available on the PlayStation Network for PlayStation 3 and compatible iOS/Android devices later this month.