Sochi is nine hours ahead of the eastern United States—12 hours ahead for the people out west—making it difficult for the average Olympic viewer to catch a lot of the events live. That's where we come in.
Everyday we'll be posting daily updates on what happened while you were sleeping, what's coming up later in the day, and what's on the docket tomorrow, as well as any relevant GIFs, tweets and interesting articles.
What You Missed:
Curling: USA Men's Curling got off to a rocky start last week, dropping its first two games. But improved play has helped the Americans win two of their last three matches and puts them only game back of making the 4-team playoff. At 10:00 a.m. EST, they'll face a very beatable Russia team.
Alpine Skiing - Men's Super Combined: 5-time medalist Bode Miller can smell the podium, but he hasn't been able to get there just yet. After finishing 8th in the Men's Downhill on Sunday, he followed up with another (by his standards) disappointing finish for 6th place in the Men's Super Combined, an event he won in 2010. This photo makes my heart hurt.
G/O Media may get a commission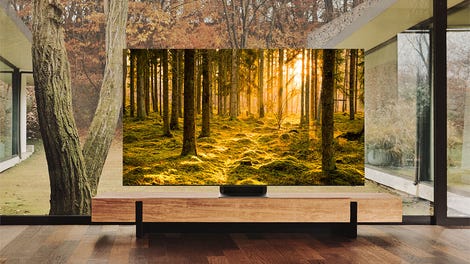 Up to 40% off
Samsung Smart TVs
He'll have another shot on Sunday in the Men's Super-G.
What's About to Happen (All times EST, * signifies a medal round):
*Biathlon - Women's Individual (9:00 a.m.)
*Figure Skating - Men's Free Skating (10 a.m.)
*Skeleton - Women (10:40 a.m.)
*Freestyle Skiing - Ladies' Aerials (12:30 p.m.)
Johnny Weir
Okay, it's time. It's time we shine a little spotlight on Johnny Weir.
New York may have been hosting its own fashion events this week, but let's be honest here, the real show is in Sochi. I mean, is there a better dressed person in sports media today? I think not.

Not only is he incredibly fashionable, I've found his commentary very insightful. For me, he makes watching figure skating at 10 a.m. much more enjoyable. Johnny and Tara Lipinski are the ice skating friends we've always wanted but never had.
Three must-reads:
1. In Sochi, an Olympics-inspired health kick is upsetting traditional habits of consumption
2. The New York Times depicts the very small margins of victory (and defeat) in alpine skiing.
3. This first-person view of a bobsled run is wild.

Tweet of the day

Considering what the Eastern United States has seen in the last couple weeks, this is just wrong. The high today in Sochi is 63°F. NOT FAIR.
GIF of the day
Continuing with our Johnny Weir theme… (Worth noting we'd probably all react like that if we had that mink!)
Medal Count as of February 12, 8:20 a.m. EST (total gold, silver, bronze)
1. Norway: (13) 4, 3, 6
2. Netherlands: (12) 4, 3, 5
3. United States: (12) 4, 2, 6
4. Russia: (11) 2, 5, 4
5. Germany: (10) 7, 2, 1

Notable events Tuesday (in chronological order, * signifying a medal round):
*Alpine Skiing - Ladies' Super G (2:00 a.m.)
*Cross Country - Ladies' Relay (5:00 a.m.)
*Short Track Speedskating - Ladies' 1500m (7:06 a.m.), Men's 1000m (7:20 a.m.)
Men's Hockey - USA vs. Russia (7:30 a.m.)
*Speedskating - Men's 1500m (8:30 a.m.)
*Skeleton - Men (9:45 a.m.)
Women's Hockey - USA vs. Sweden (10:00 a.m.)
*Ski Jumping - Men's Large Hill Individual (12:30 p.m.)