Sochi is nine hours ahead of the eastern United States—12 hours ahead for the people out west—making it difficult for the average Olympic viewer to catch a lot of the events live. That's where we come in.
Everyday we'll be posting daily updates on what happened while you were sleeping, what's coming up later in the day, and what's on the docket tomorrow, as well as any relevant GIFs, tweets and interesting articles.
What You Missed:
Freestyle Skiing - Ladies' Ski Slopestyle: American Devin Logan scored the USA's first silver medal of Sochi with a score of 85.40. Canadians Dara Howell and Kim Lamarre added gold and bronze medals to Canada's leading medal count, which currently sits at nine.
Curling: Both the USA men's and women's curling teams are off to rough start. Today, the men dropped a match to China 4-9 and the women lost to Russia 7-9. However, each team still has seven qualifying matches remaining, so no need to panic just yet.

If you're not familiar with curling (you should be), this 45-second video will get you up to speed.
G/O Media may get a commission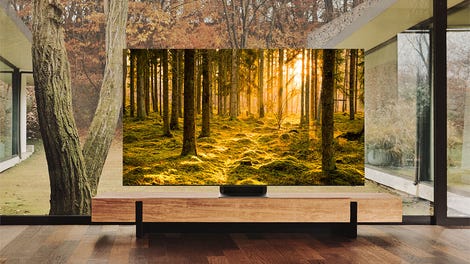 Up to 40% off
Samsung Smart TVs
What's About to Happen (All times EST, * signifies a medal round):
*Luge - Women's Singles (9:30 a.m.)
*Biathlon - Women's Pursuit (10:00 a.m.)
*Ski Jumping - Ladies' Normal Hill Individual (12:30 p.m.)
*Snowboard - Men's Halfpipe (12:30 p.m.)
Three must-reads:
1. All of the New York Times' Olympic graphics have been fantastic, but I think this one on ski jumping is my favorite.
2. The Wall Street Journal shows how much faster Olympic speedskaters have gotten over the years.
3. Ahead of today's final, snowboarders are calling the halfpipe in Sochi "garbage" and "unsalvageable."
Tweet of the day

Poor Johnny Quinn can't catch a break. Just a few days after the bobsledder was trapped in a bathroom, he got stuck in an elevator. Rough luck!

GIF of the day
15-year-old Julia Lipnitskaia: "Just holding my leg over my head. While spinning. On ice. For eternity."

Medal Count as of February 11, 8:20 a.m. EST (total gold, silver, bronze)
1. Canada: (9) 4, 3, 2
2. Netherlands: (7) 3, 2, 2
3. Norway: (7) 2, 1, 4
4. USA: (6) 2, 1, 3
5. Russia: (6) 1, 2, 3

Notable events Tuesday (in chronological order, * signifying a medal round):
*Alpine Skiing - Ladies' Downhill (2 a.m.)
Women's Ice Hockey - USA vs. CAN (7:30 a.m.)
*Nordic Combined - Individual Normal Hill - Cross-Country (7:30 a.m.)
*Speedskating - Men 1000m (9:00 a.m.)
*Luge - Doubles (9:15 a.m.)
*Figure Skating - Pairs Free Skating (10:45 a.m.)
*Snowboard - Ladies' Halfpipe (12:30 p.m.)