Sochi is nine hours ahead of the eastern United States—12 hours ahead for the people out west—making it difficult for the average Olympic viewer to catch a lot of the events live. That's where we come in.
Everyday we'll be posting daily updates on what happened while you were sleeping, what's coming up later in the day, and what's on the docket tomorrow, as well as any relevant GIFs, tweets and interesting articles.
What You Missed:
Women's Ice Hockey: USA dropped its first game of the Olympics to rival Canada by a score of 3-2. The start of the game looked promising. After some stellar goaltending from Jessie Vetter in the first 30 minutes, the Americans gained some momentum in the second period and capitalized with a perfectly placed wrist shot from Hilary Knight.
But the third period was a different game. Canada knotted things at one early in the third frame, courtesy of Meghan Agosta. Only 93 seconds later, Hayley Wickenheiser added a second goal to give the Canadians the lead. Canada lengthened its lead to 3-1 with another goal by Meghan Agosta, this one on a breakaway. Despite a late USA goal from Anne Schleper, the Americans, who only registered three shots in the final period, were never able to pull even.
This rivalry will likely continue next weekend as both teams are expected to meet again in the gold medal round.
G/O Media may get a commission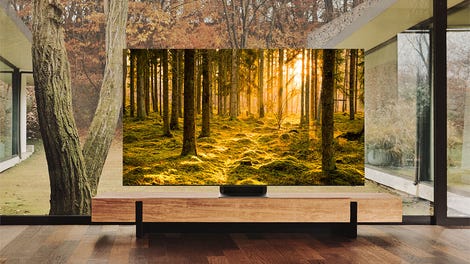 Up to 40% off
Samsung Smart TVs
Alpine skiing - Ladies' Downhill: What happens in the event of a tie? Double gold! That was the result when both Tina Maze of Slovenia and Dominique Gisin of Switzerland crossed the finish line at 1:41.57 earlier today. Just a tenth of second behind the tying pair was Lara Gut, also of Switzerland.
What's About to Happen (All times EST, * signifies a medal round):
*Figure Skating - Pairs (10:45 a.m.)
*Snowboard - Ladies' Halfpipe (12:30 p.m.)
Three must-reads:
1. Pew created a neat chart on how many events in each discipline have been added to the Winter Olympics over the years.
2. The New York Times visually breaks down Iouri Podladtchikov's gold medal-winning halfpipe run.
3. The secret to snowboarder Jamie Anderson's success? A smoothie.
Tweet of the day

J.J. Watt of the Houston Texans grew up in Wisconsin and played football, basketball and baseball in high school. Turns out the 2012 NFL Defensive Player of the Year isn't half bad at hockey either!

GIF of the day
Reverse snowboarding!

Medal Count as of February 12, 8:20 a.m. EST (total gold, silver, bronze)
1. Norway: (11) 4, 3, 4
2. Canada: (9) 4, 3, 2
3. Netherlands: (8) 3, 2, 3
4. USA: (7) 2, 1, 4
5. Russia: (7) 1, 3, 3

Notable events Tuesday (in chronological order, * signifying a medal round):
*Freestyle Skiing - Men's Ski Slopestyle (4:30 a.m.)
*Cross Country - Ladies' Classic (5:00 a.m.)
*Short Track Speedskating - Ladies' 500m (7:05 a.m.)
*Speedskating - Ladies' 1000m (9:00 a.m.)
*Biathlon - Men's Individual (9 a.m.)
*Luge - Team Relay (11:15 a.m.)