Sochi is nine hours ahead of the eastern United States—12 hours ahead for the people out west—making it difficult for the average Olympic viewer to catch a lot of the events live. That's where we come in.
Everyday we'll be posting daily updates on what happened while you were sleeping, what's coming up later in the day, and what's on the docket tomorrow, as well as any relevant GIFs, tweets and interesting articles.
What You Missed:
Snowboarding - Ladies' Slopestyle: USA sweeps the first Olympic slopestyle snowboarding competition! American Jamie Anderson scored a near perfect 95.25 to give the USA its second gold of Sochi (the other being Sage Kostenburg for his Men's Slopestyle performance). Enni Rukajarvi of Finland earned silver with her score of 92.50 and Great Britain finally got on the board thanks to a bronze medal from Jenny Jones.
Alpine Skiing - Men's Downhill: One tenth of a second separated gold from bronze as Austrian Matthias Mayer came in first with a time of 2:06.23, then it was Christof Innerhofer of Italy at 2:06.29 and Norwegian Kjetil Jansrud rounded out the podium at 2:06.33.
Cross Country - Men's Skiathlon: In the 15 km Classic + 15 km Free race, Dario Cologna of Switzerland took the lead on a late uphill and didn't look back, winning gold with a time of 1:08:15.4. Swede Marcus Hellner and Martin Johnsrud Sundby of Norway weren't far behind and grabbed silver and bronze, respectively.
G/O Media may get a commission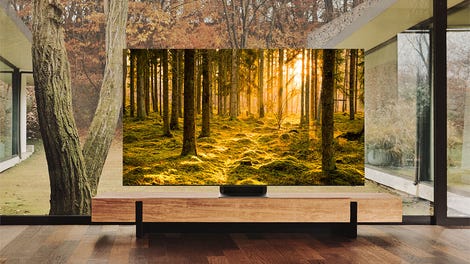 Up to 40% off
Samsung Smart TVs
What's About to Happen (All times EST, * signifies a medal round):
*Figure Skating - Team Free Dance (12:10 p.m.)
*Ski Jumping - Men's Normal Hill Individual (12:30 p.m.)
Three must-reads:
1. The New York Times created a beautiful graphic on the luge track, including awesome first-person viewpoints.
2. Will LGBT Protests In Sochi Have Any Effect On Vladimir Putin's Russia?
3. Defying Gravity - See how Olympic snowboarders appreciate victory and cope with defeat.
Bonus: The full, hilarious account of the bobsledder who destroyed a broken bathroom door.
Tweet of the day

Panorama of vodka section at a big-box grocer near #sochi. #sochi2014 pic.twitter.com/TH4FyFeV3k— Carl Quintanilla (@carlquintanilla) February 8, 2014
Medal Count as of February 9, 11:30 a.m. EST (total gold, silver, bronze)
1. Norway: (6) 2, 1, 3
2. Netherlands: (4) 2, 1, 1
3. USA: (3) 2, 0, 1
4. Canada: (3) 1, 1, 1
5. Austria: (2) 1, 1, 0

Notable events tomorrow (in chronological order, * signifying a medal round):
*Alpine Skiing - Ladies' Super Combined - Slalom (6 a.m.)
*Speedskating - Men's Short Track 1500m Final (7:05 a.m.), Men's 500m (8 a.m.)
*Biathlon - Men's Pursuit (10 a.m.)
*Freestyle Skiing - Men's Moguls (1 p.m.)