Thousands of Venezuelans who blame their president for the country's economic crisis just staged their largest protest rally in two years. But you'll have a hard time finding any press photos of the event.
The socialist government, which is increasingly cracking down on civil liberties amid a worsening crisis, booted foreign journalists and prevented Venezuelan media from covering the protest. Venezuelan officials barred at least six foreign journalists from entering the country, according to the Committee to Protect Journalists.
G/O Media may get a commission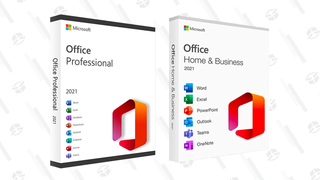 89% off
Microsoft Office Professional 2021 Lifetime License
Protesters, however, are making sure their voices are heard by posting their stories on social media, which has become a main source of news in Venezuela.
Protest organizers estimate 1 million people marched through the streets of Venezuela's capital yesterday to demand a recall referendum against president Nicolás Maduro. The president claims there were only 30,000 people in the streets, but the images being uploaded to social media show his math may be off.
https://www.instagram.com/p/BJ1TRN-hqT
Demonstrators from all over Venezuela reached the march despite the state police and national guard attempting to block access to the Caracas. Venezuelans uploaded pictures and video of state police officers blocking streets, highways and tunnels.
https://www.instagram.com/p/BJ2xEhYh6xH/
Rebeca Andrea Dos Santos, 19, of Caracas is currently undergoing treatment for leukemia and attended the rally to express some of her fears. She held a handwritten sign that read she was supporting the referendum in the name of "the patients who don't have the medicine for the chemotherapy treatments"
A picture of two women shared on Instagram with a whole list of reasons why they support the referendum. "This government is miserable, the hunger, the queues, the lack of medicine," their sign read.
The opposition is urging state electoral officials to allow them to start a three-day petition that could trigger the referendum process if they obtain at least 20% voter support.
If the opposition collects enough signatures they can them move into the final stage of the referendum. To kick Maduro out of office opponents need to win more votes than the Venezuelan president collected during the presidential election in April 2013.
Maduro's six-year term is scheduled to end in January 2019